October 31, 2023
Disclaimer: DarkOwl analysts do not endorse any of these marketplaces or offerings and have not confirmed legitimacy of any of these sites. This information is provided for awareness only and has not been independently verified.
Introduction
This Halloween season, DarkOwl analysts decided to delve into some of the scary things that are available for purchase on the dark web. The dark web is well known for dealing in illicit goods such as drugs, counterfeit goods, and hacking tools as well as leaked data. But there are also sites out there which claim to be selling goods that are a bit more gruesome and creepy…
This blog explores some of the weird and scary things we have found being sold on the dark web.
Warning: This blog contains images some may find distressing.
Organs For Sale
A number of sites have been identified on the dark web that claim to be selling human organs. DarkOwl analysts have seen both stand-alone sites selling these as well as individual postings on marketplaces. In the image below, we can see a stand-alone site which offers organs for transplant and claims to provide shipping worldwide.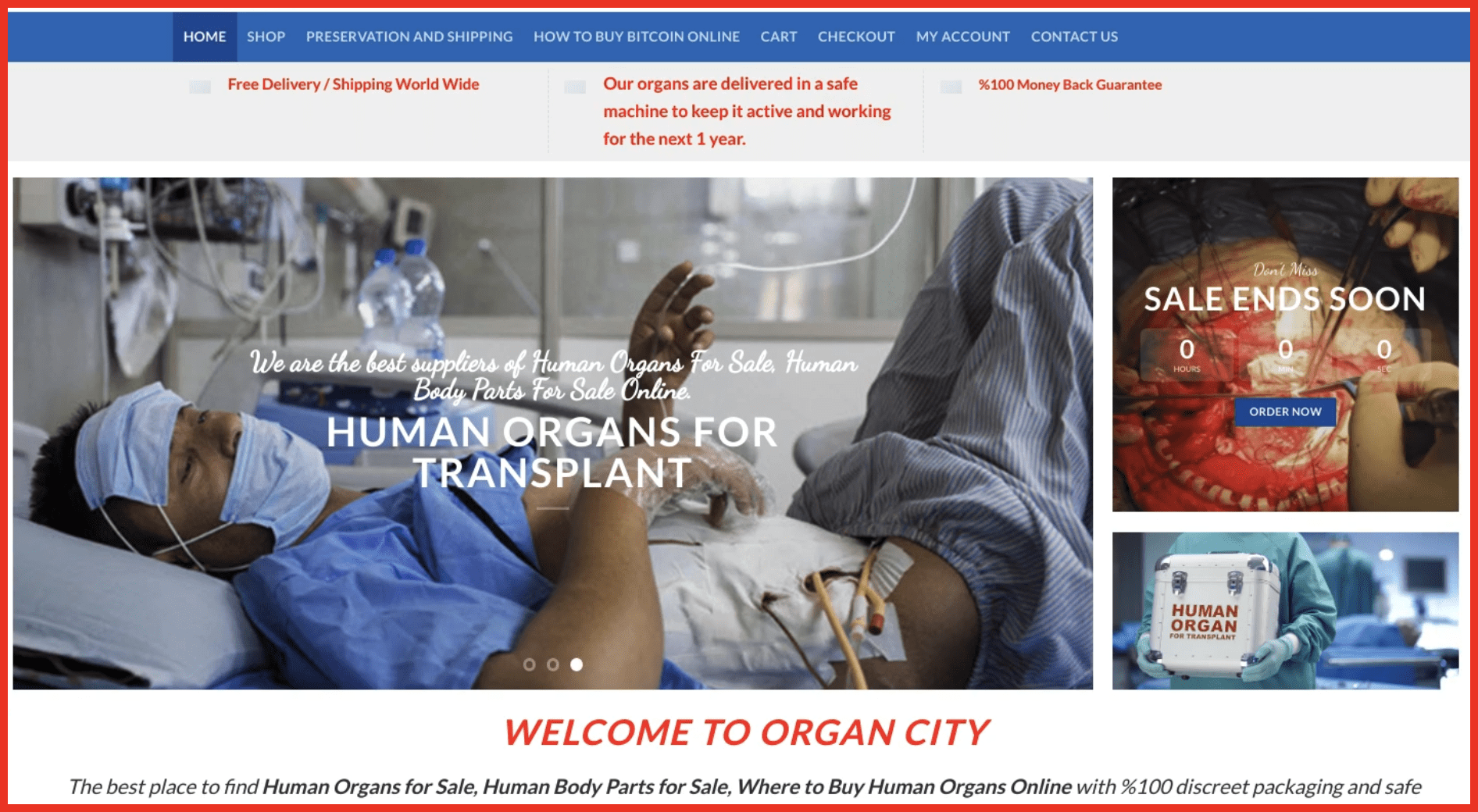 The image below is an example of the items that are being offered for sale. Ranging from hearts, kidneys, and livers. They claim that the organs remain viable for one year – which is scientifically impossible. There is no indication from this site on how the organs are transported, or how the purchaser is expected to transplant the organs, as no medical help is provided. The do provide a money back guarantee however.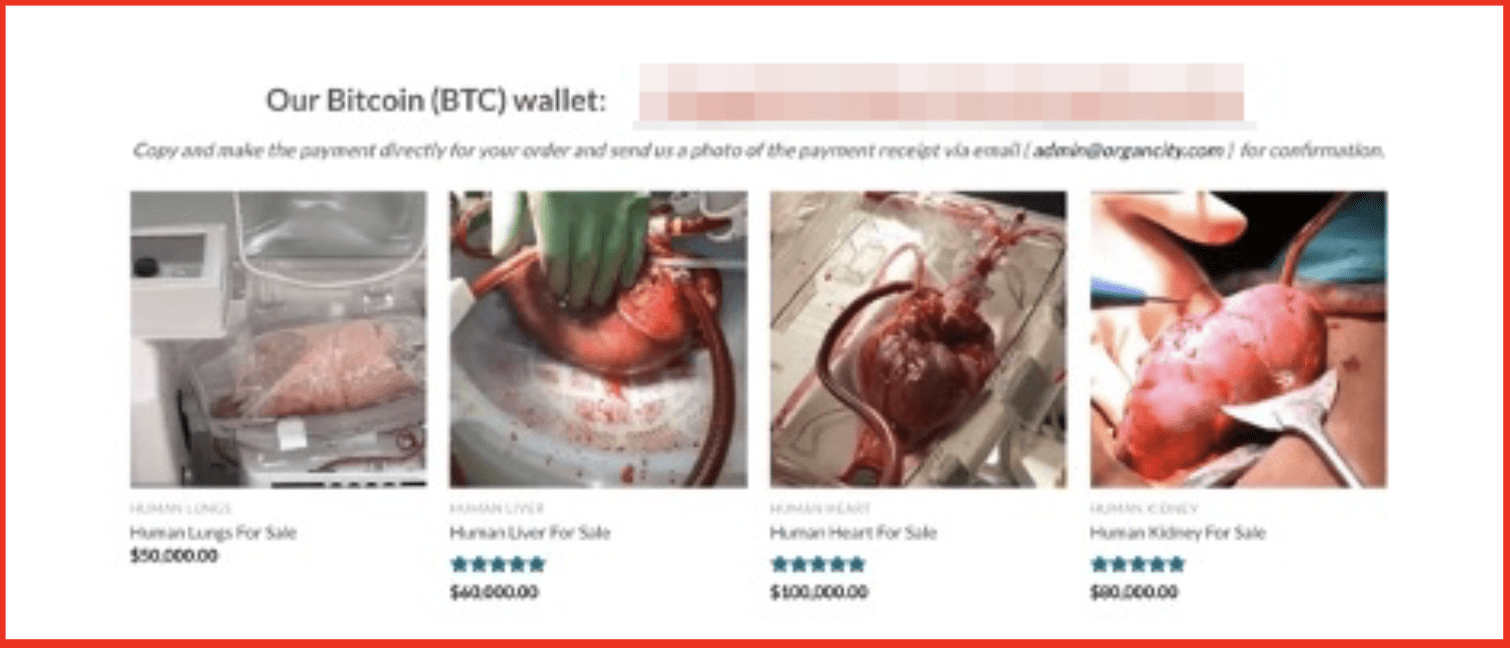 The cryptocurrency address associated with this site has received a total of 0.61955435 BTC, which equates to around $34,000 depending on the conversion rate. Although the address currently has a balance of 0. Most of the transactions that have taken place have been for $100-200 which is far below the asking price on the website. So, it is unlikely that they have actually sold the items they are advertising or at least not at the prices shown above.
It is doubtful if this is a legitimate offering, DarkOwl analysts have observed the same images being used on multiple sites which may indicate that they are using stock images and that this is a scam. The fact that they claim the organs will survive a year is also suspicious.
It is also unclear from the sites we have reviewed, if they are legitimate, where these organs are sourced from. There is the potential that this could be linked to criminal activity such as human trafficking or the black-market trade of organs.
Another site we identified is more specific about the locations that they are able to export organs to and also indicates that they will provide medical expertise to assist with the transplant. It is worth noting that this particular dark web site is not currently active.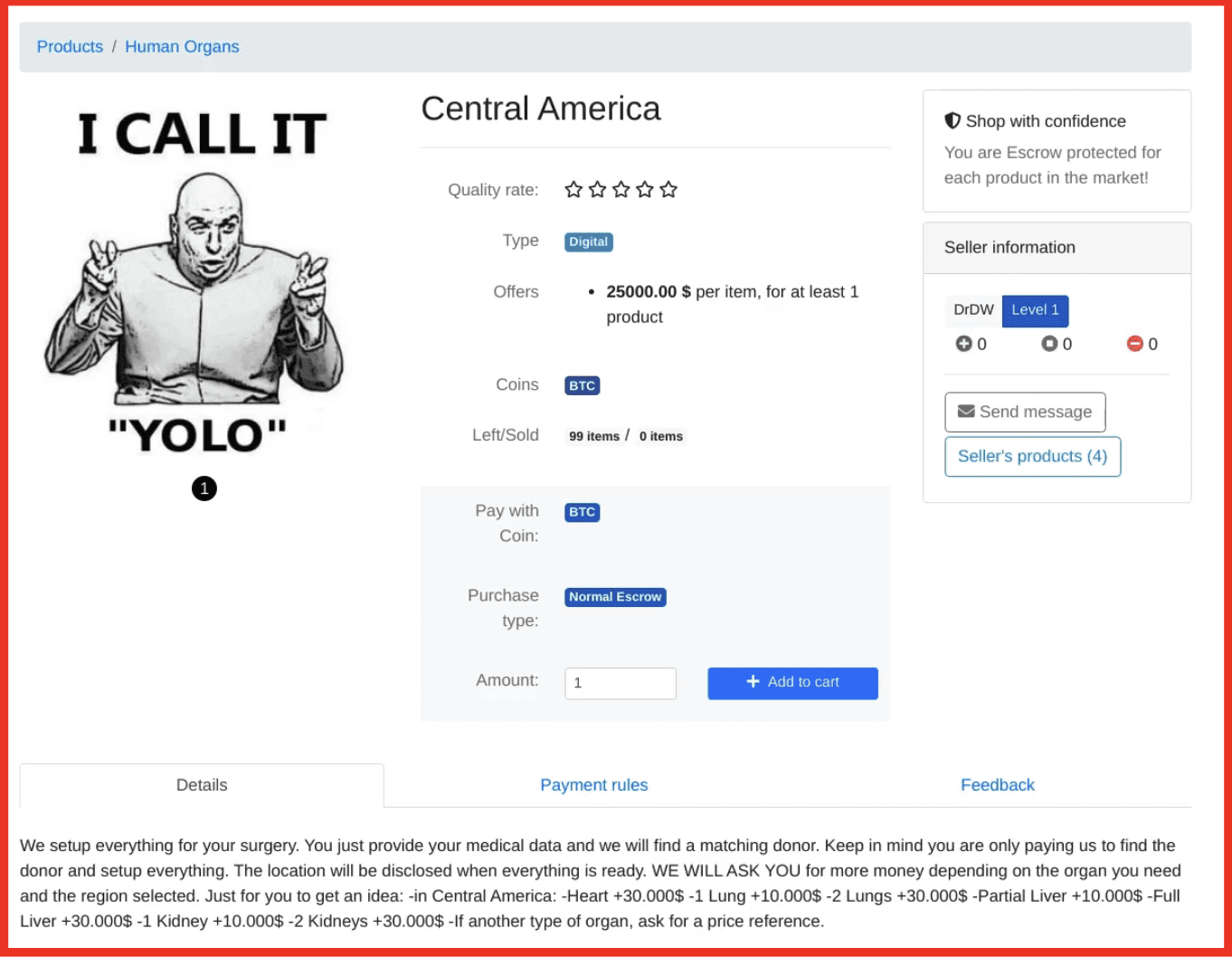 "Human" Meat
Perhaps the "creepiest" site we found was one that advertises the sale of human "meat" for consumption – "For those with taste."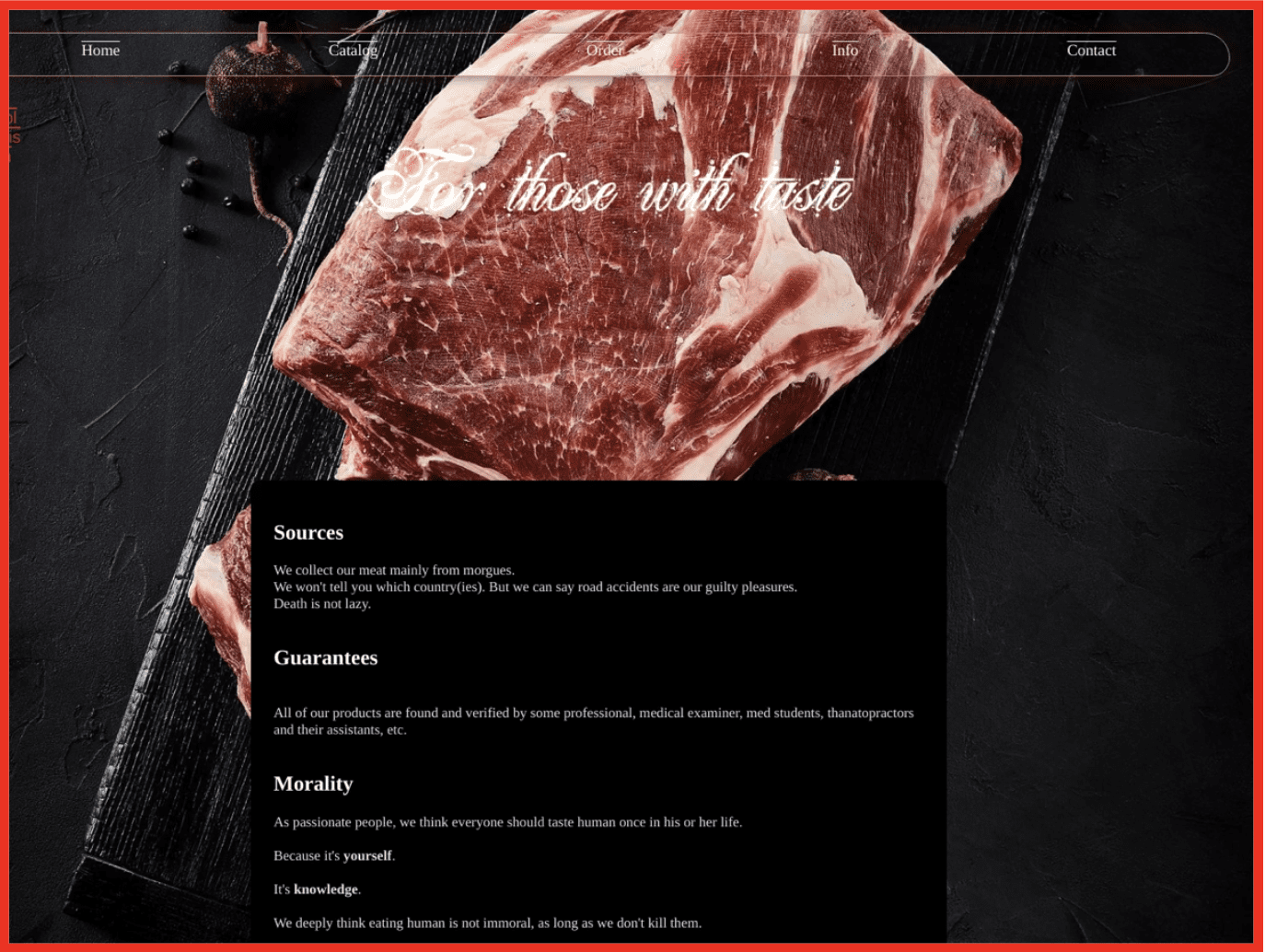 The site states that eating human meat is not immoral as long as you haven't killed to get it. Although they don't directly state where the meat is sourced from, they suggest it comes from road traffic accidents and morgues.
The site also gives information about where they will export the "meat" to and suggest that everyone should taste human meat at least once. They offer a range of "cuts" as well as organs which can be sent to Europe, Asia, and Africa.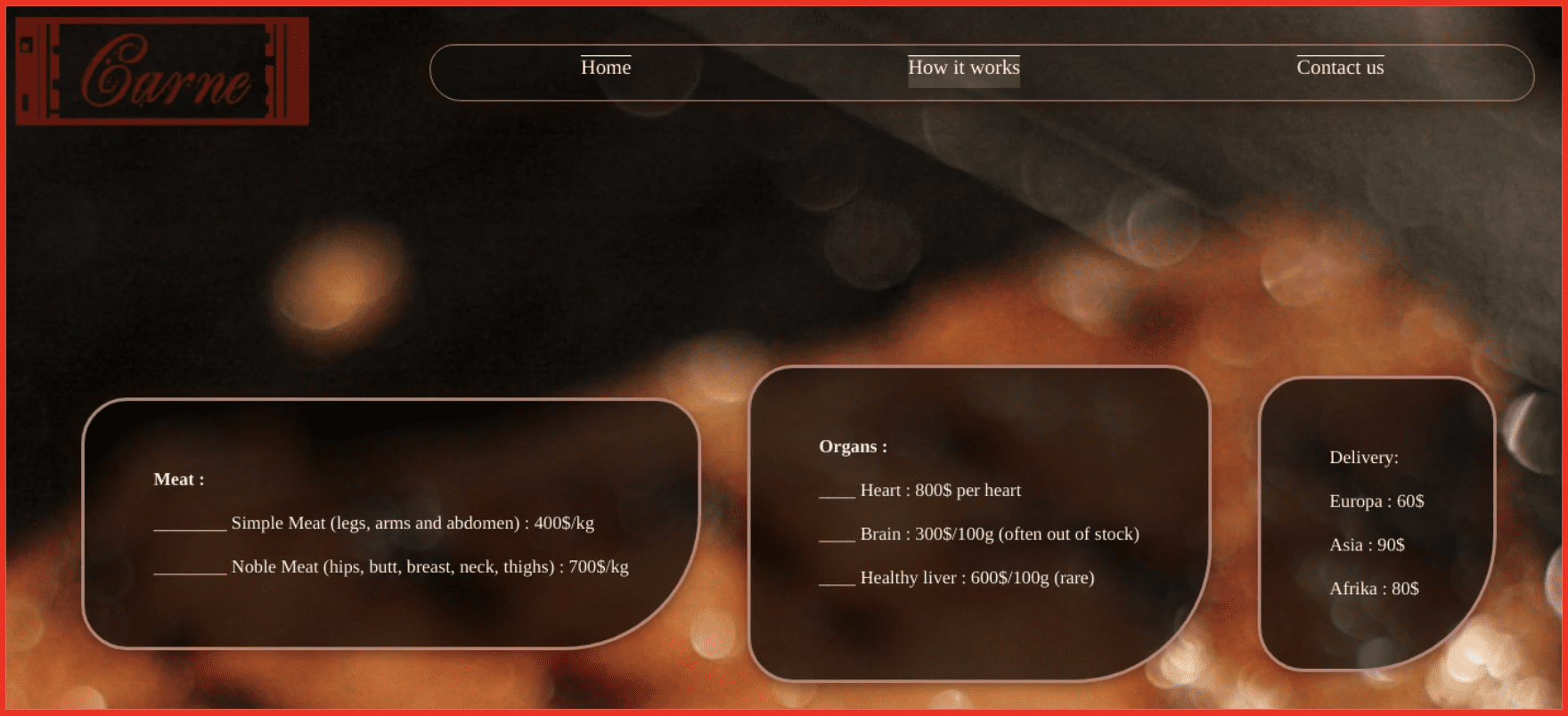 DarkOwl has no evidence to suggest if this is legitimate or not. We do not suggest trying to order.
Hitmen
It has been widely reported previously that hitmen are available for hire on the dark web. Although it is never clear if the sites are legitimate or not, there have been examples where they have been proved to be true and murders or attempted murders have taken place.
One such example of hitman services being offered was identified by DarkOwl. The Mexican Mafia claim to offer the following services in their own words:
Death by shoot and drive away
Death by making it look like accident or robbery gone wrong
Death by sniper
Beating
Arson
Guns
They offer proof that they are legitimate by posting the names of individuals they claim to have murdered in multiple jurisdictions. No further research was conducted to substantiate this claim and it is possible they could have obtained stories from the media and claimed them as their own.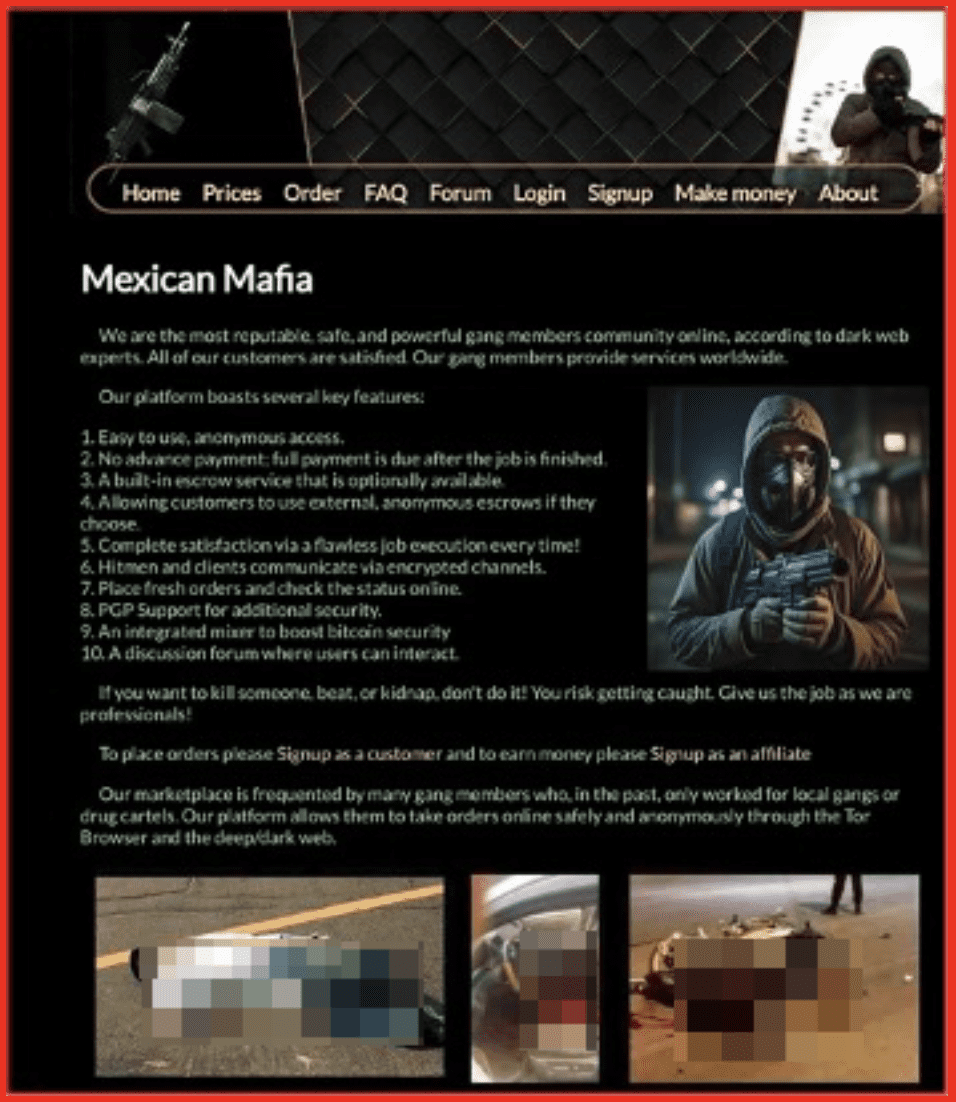 Conclusion
The dark web holds many secrets, some of which can be gruesome. At this time of year, they can seem like "tricks" but we are unable to confirm if any of the things mentioned in this blog are legitimate or not but either way they are creepy for spooky season.
---