SCOTUS members credit card information continues to be doxxed
July 1, 2022
The recent doxxing of Supreme Justices – presumably in retribution for the Roe v Wade rulings – has spread widely across social media platforms, including Twitter, Instagram, TikTok, and more.
While all members of the Supreme Court have been doxxed to some degree in the past, this latest round of public information sharing contains Credit Card information for at least four Justices.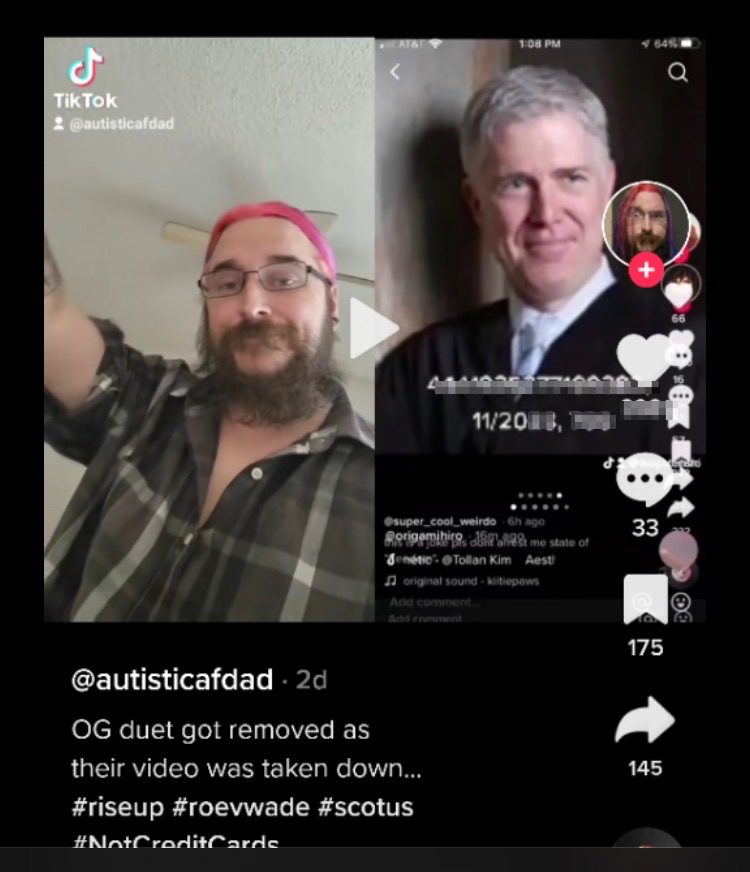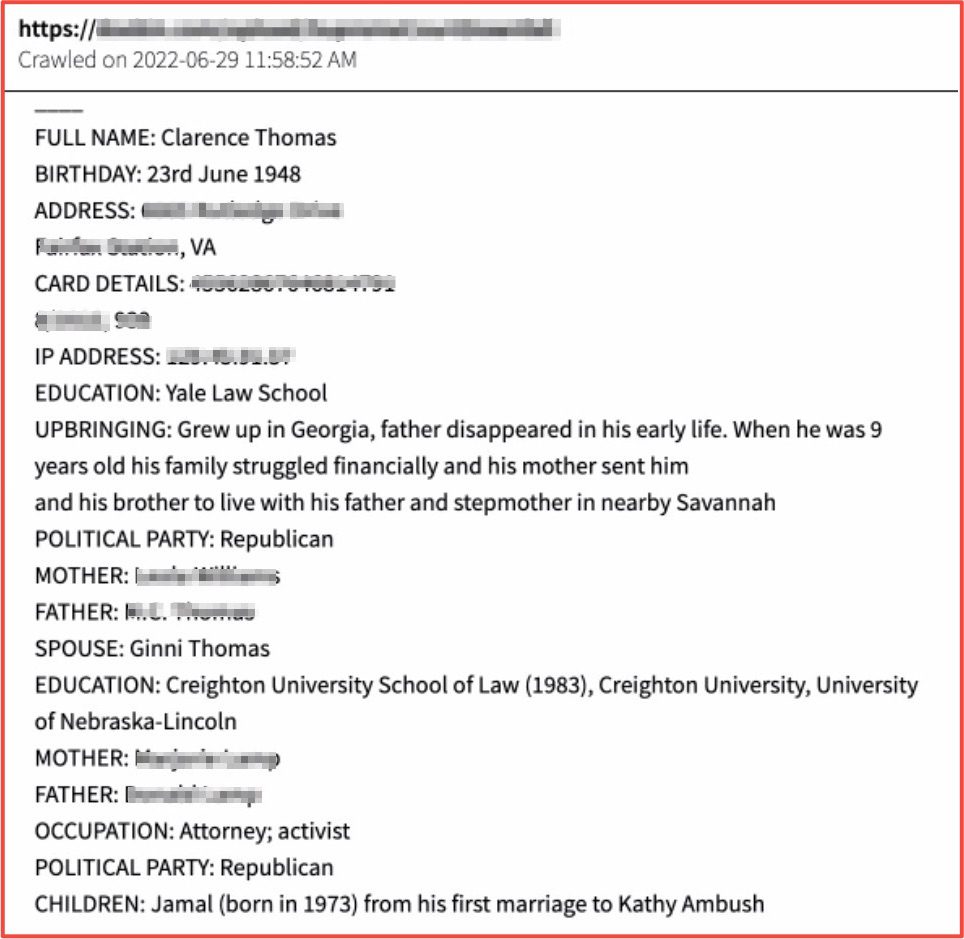 Many posts circulating on the darknet, deep web, and paste sites include other associated PII (as pictured above), which together form a comprehensive doxx of the targeted Justices that could be exploited for social engineering attacks, fraud and more.
SIEGEDSEC Targets Pro-Life State Governments
27 June 2022
Over the weekend cyber hacktivists enraged about the SCOTUS decision, decided to direct their anger towards their keyboards and targeted the networks of pro-life state governments, e.g. Kentucky and Arkansas. The group claimed to have accessed and exfiltrated several gigabytes of sensitive data, including employee PII from state government servers. The cyber threat group, SiegedSec, who we featured earlier this month, has been recently emboldened by their involvement in the Russia-Ukraine cyber war and stated on their Telegram channel, the attacks against Kentucky and Arkansas are just the beginning with planned continued attacks against pro-life organizations and states with anti-abortion regulations.
"THE ATTACKS WILL CONTINUE!" – SiegedSec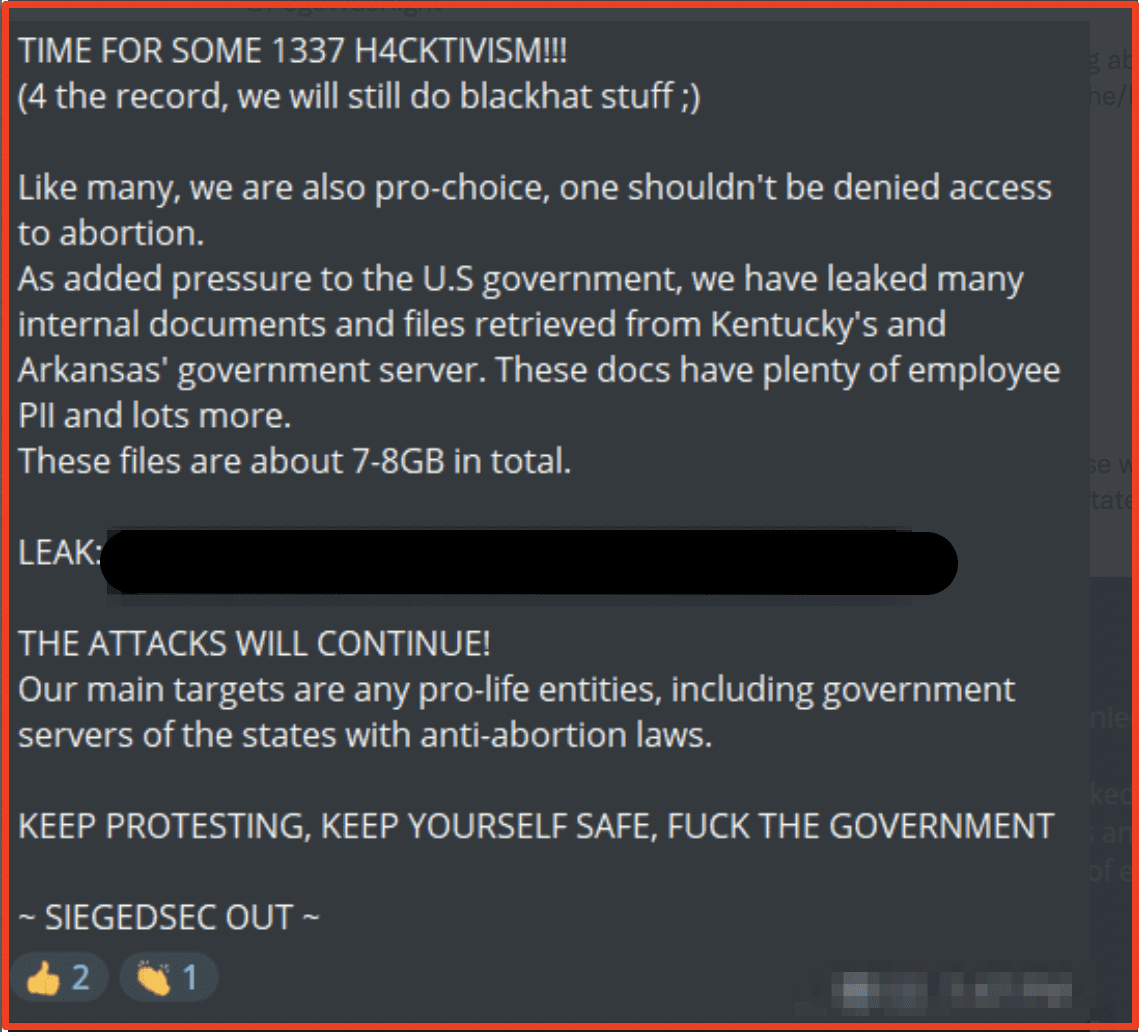 Source: Telegram
---
SCOTUS Overturns Roe v. Wade
24 June 2022
On Friday morning, the U.S. Supreme Court uploaded their controversial decision on the case titled, DOBBS, STATE HEALTH OFFICER OF THE MISSISSIPPI DEPARTMENT OF HEALTH, ET AL. v. JACKSON WOMEN'S HEALTH ORGANIZATION ET AL; a decision which effectively removed one's constitutional right to an abortion as provided by the long-standing 1973 Roe v. Wade precedent. The decision sparked widespread protests around the country and conflicts between activists and law enforcement.
---
Original Report
21 June 2022
As a result of the recent political landscape regarding Roe v. Wade, our analysts reviewed the topic of abortion and observed a surge in darknet economies providing abortion medications and home kits on underground marketplaces.
Background and Political Context
The historical January 1973 Roe v. Wade decision by the U.S. Supreme Court, which legally protected one's rights to an abortion at the Federal level, is on a precipitous demise in a radical shift in political power across the United States. In a draft majority opinion that was leaked out of the Supreme Court to Politico in early May, the conservative majority of the Supreme Court justices are very likely to overturn the landmark Roe v. Wade and a subsequent 1992 decision — Planned Parenthood v. Casey, with Justice ALITO stating, "Roe was egregiously wrong from the start."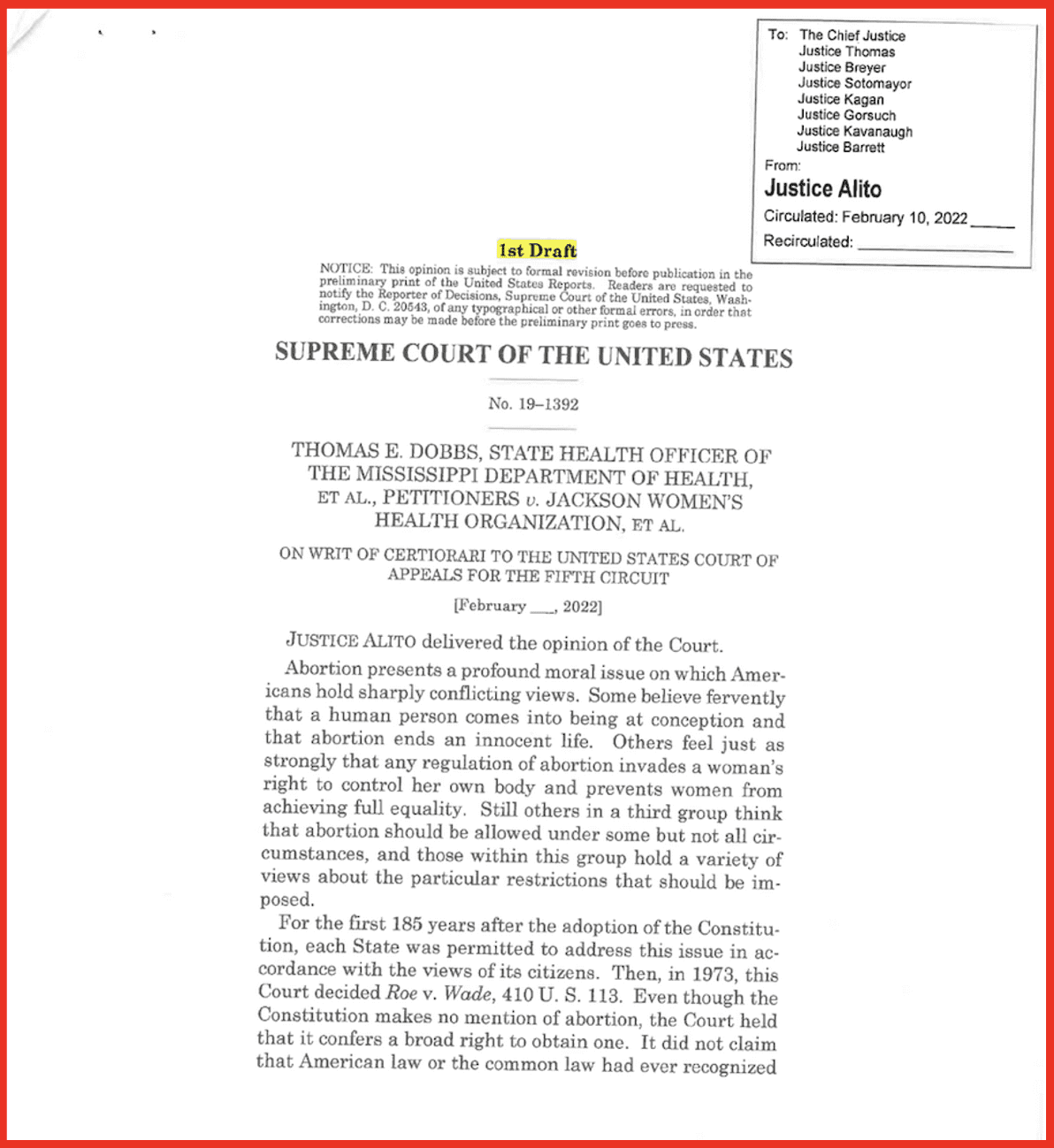 Figure 1: Source POLITICO
If the position of the draft opinion goes ahead as written – which some legal experts predict might be officially published as early as this week – federal protections for one's right to an abortion will immediately end and the issue will be tossed back for decision at the individual state level. With recent extreme state-legislative decisions such as the Texas Heartbeat Act criminalizing abortions any time after six weeks of pregnancy, 23 states have some form of restrictive abortion-related legislation in place. 19 states have protected the right to abortion by codifying it into their state laws, Colorado and California have established themselves as "sanctuary states" for women's reproductive health.
According to the American Pregnancy Association, an abortion is defined as the early termination of a pregnancy and is induced by a clinical surgical procedure or the administration of drugs to remove the embryo and placenta from the female's uterus. Two drugs associated with the "chemical abortion pill regimen" are oral Mifepristone (Mifeprex) and Misoprostol (Cytotec) used in conjunction to stop the production of pregnancy related hormones and induce contractions of the uterus to expel the embryo.
Impacts Seen on the Darknet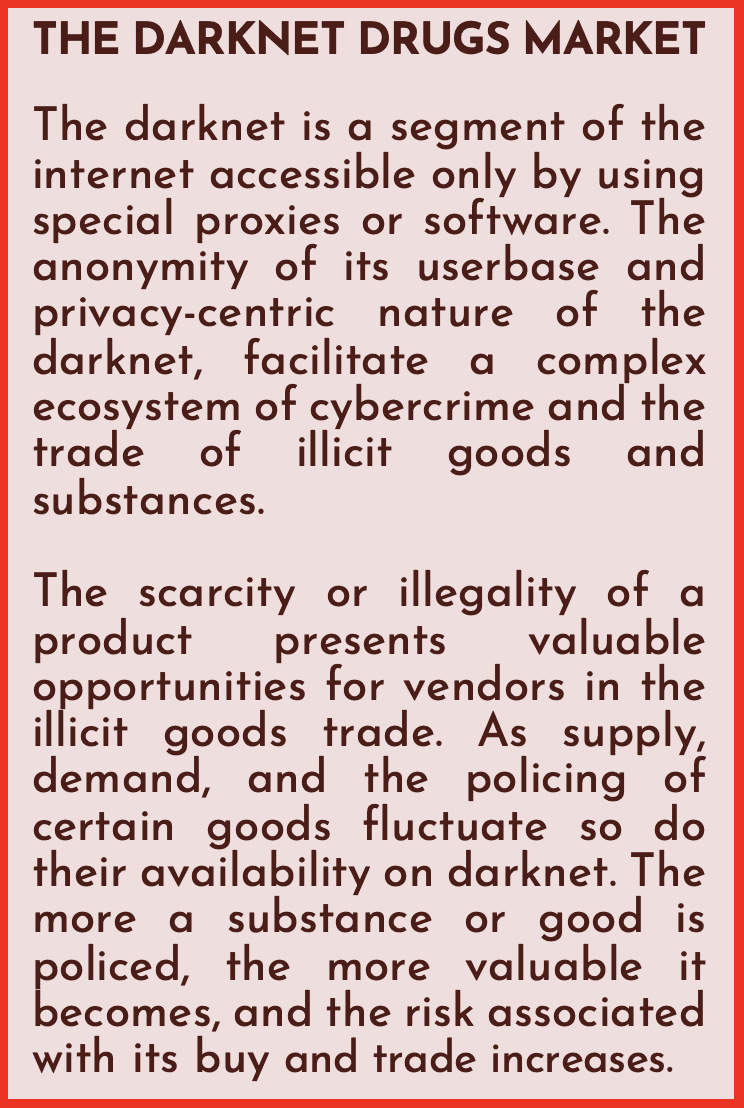 Within a week of the Supreme Court's leaked draft opinion, DarkOwl analysts observed a noticeable volume of information related to medical abortions materialize – including offers for chemical abortion drugs for sale across the darknet.
Chatter on darknet discussion forums and deep-web adjacent chat platforms foster creating an online community to support US-based individuals' access to abortion, calling it the "Underground Abortion Railroad" to help connect women with abortion and transportation providers and avoid criminal prosecution.
One forum user identified themselves from Europe and offered to stock up on abortion medications and emergency contraception pills such as "Plan B" from their local pharmacies, offering to ship them at fair market price to those in the United States who cannot access them legally through non-darknet sites.
Another user in a popular darknet forum mentioned a reliable marketplace selling Misoprostol, described as "28 Pills 200MG Safe Home Abortion Method." The vendor of the marketplace commented on the thread that they don't actually sell the pills anymore because there were not enough buyers, but would be willing to change their position and offer them again if there was demand.
Monitors on the darknet marketplace suggested has yet to offer a "Safe Home Abortion Method Kit" as mentioned in the thread or abortion-related pills on their site. The same vendor also offers a variety of illegal drugs and narcotics as well, including Cocaine, Percocet, Xanax, weight loss treatments, and Freebase.

Figure 2: Source Dread Darknet Discussion Forum
DarkOwl continues to observe other sources of underground abortion services on offer in its Vision database with multiple advertisements for Misoprostol and Mifeprex, and access to (purportedly) safe abortion services. One supplier recommended those in need of abortion pills contact them via XMPP with OMEMO for a direct, private sale.
Another classified-style advertisement describes the at-home abortion treatment in detail and the medications used, with pricing, ranging from $7 to $16 USD for the abortion-related medications. Multiple forms of contact information was also included.
Other drugs offered for sale on the same classified-advertisement forum have been affiliated with scammers that have no intention of providing the services or goods on offer. Tragically, there is increased risk that darknet scammers will exploit the current political abortion issue in the US for financial gain like they did during the COVID-19 pandemic.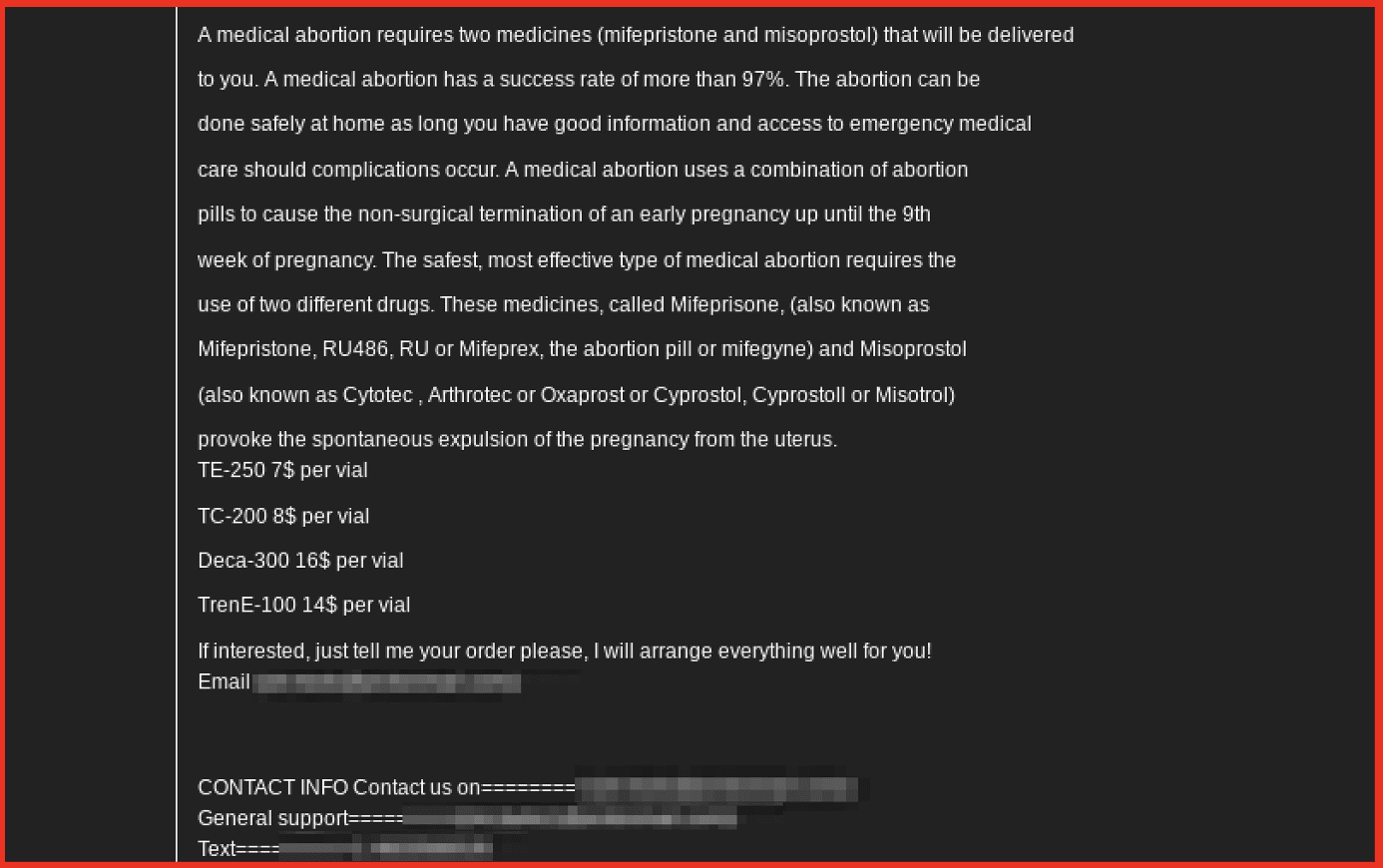 Some darknet forum users point readers to "offshore pharmacy sites" where abortion-related medication could be purchased, mentioning a clinic taking online consultations in India among others. A quick OSINT search revealed numerous Surface Web domains offering abortion-related medications for purchase. How those sites will operate regarding shipping the drugs to customers in states who have banned abortions once Roe is overturned is yet to be determined.
Overall, opinions on the darknet about abortion are mixed with strong opinions on both sides of the issue. Members of right-wing aligned Telegram channels spin abortion as murder and celebrate the Supreme Court's position.

Figure 4: Source DarkOwl Vision
While other users support less government over individual choices regardless and view the decision as a potential turning point for the loss of other individual rights.
"I do believe everyone should have a choice, it's a sensitive topic, but I will stand on democracy, taking peoples choices away is not democracy." – Dread User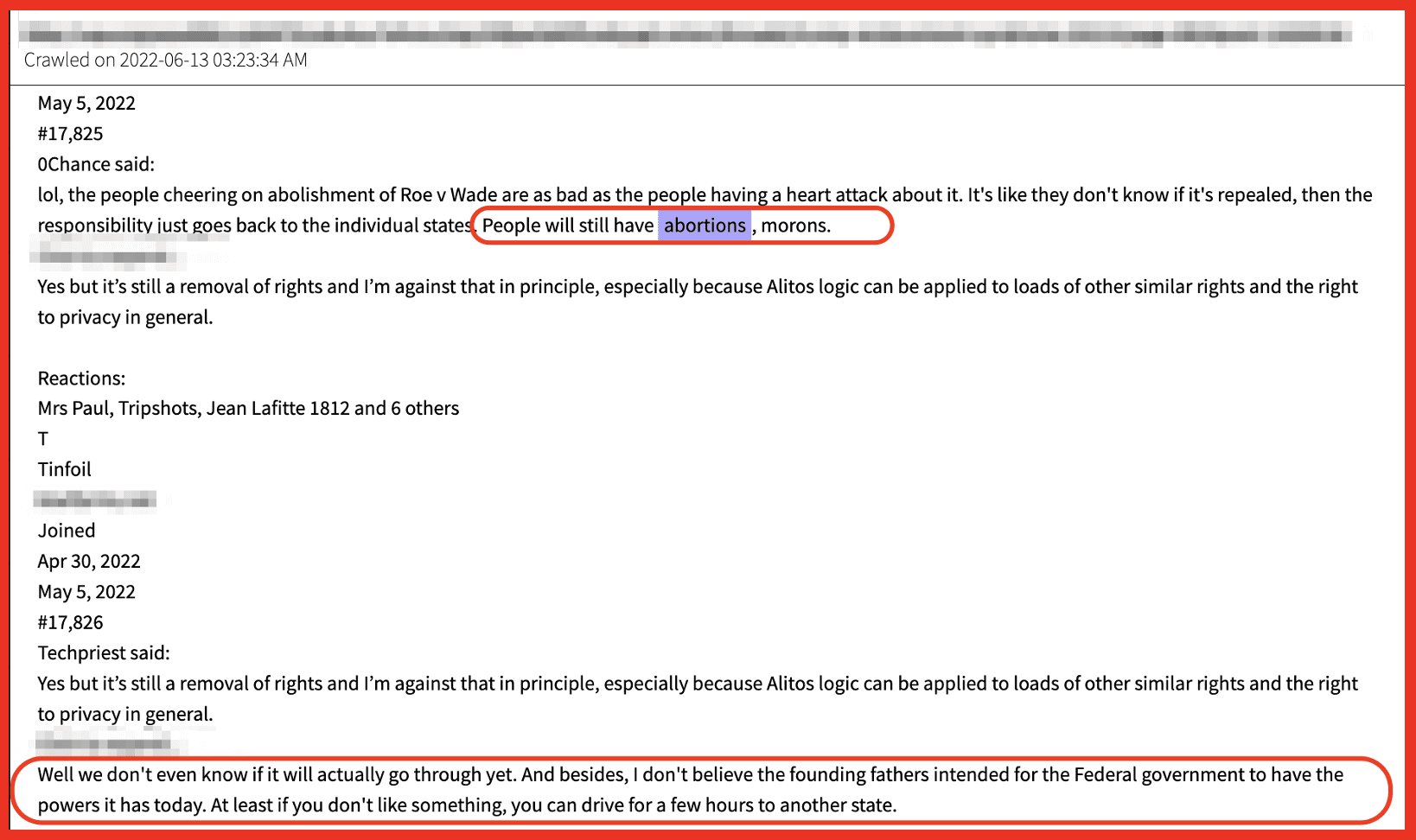 Figure 5: Source DarkOwl Vision
A controversial pro-choice group, Ruth Sent Us (RSU), named after late liberal Justice Ruth Bader Ginsburg, recently admitted to publishing on social media the home addresses of Chief Justice John Roberts alongside five other conservative associate justices: Samuel Alito, Clarence Thomas, Neil Gorsuch, Brett Kavanaugh and Amy Coney Barrett. The group claimed the information was publicly available and never encouraged violence against any of the justices.
The release of such information has fueled on-going deep web forum debates about the topic with some stating such information releases violates 18 USC 1503, which "prohibits 'endeavors to influence, intimidate or impede… officers of [the] court'." Despite the online debate, a 26-year old man, Nicholas John Roske, likely relied on such leaked information to target Justice Kavanaugh last week. Roske was arrested for attempted murder after arriving at Kavanuagh's home with a Glock 17 handgun, ammunition, a knife, zip ties, pepper spray, and duct tape, that he told police he planned to use to break into Kavanaugh's house and kill him. Other left-leaning U.S. politicians have also been targeted in their homes since the draft opinion leaks with users on Telegram calling them "pro-abortion death cult democrats."

Figure 6: Source Telegram
DarkOwl analysts have not yet observed abortion pills such as Mifepristone and Misoprostol widely available on principal decentralized darknet markets, but they are available for purchase via threads in discussion forums, as well as classified-style advertisements on transient paste services.
Closing Thoughts
Users across darknet forums have voiced interest in abortion-related pills and services following the leaked Supreme Court documents and advocate for organized protests in support of and against the potential ruling. Once the U.S. Supreme Court officially issues their ruling, we anticipate a more concerted response from darknet marketplaces in offers for abortion related drugs and services. The darknet will also continue to be a resource for activists to organize political protests and circulate sensitive information related to the abortion debate.
Irrespective of which side of the debate one stands, the darknet will continue to fuel the controversy both in support of and criticism of a woman's right to abortion. In a world of increased digital surveillance and the fundamental privacy-centric nature of Tor and similar anonymous platforms, individuals will seek out like-minded communities on the darknet for social activism related to the topic. DarkOwl predicts an increased use of Tor to organize political protests and circulate sensitive information related to the abortion debate.
---
Curious about darknet marketplaces or something you read? Interested in learning more? Contact us to find out how darknet data applies to your use case.