October 19, 2023
Last week, DarkOwl participated in the well-regarded law enforcement conference: ISS World Latin America. The annual, training-oriented event describes itself as "the world's largest gathering of Regional Law Enforcement, Intelligence and Homeland Security Analysts, Telecoms as well as Financial Crime Investigators responsible for Cyber Crime Investigation, Electronic Surveillance and Intelligence Gathering."
ISS World events focus on the latest in cyber tools and methodologies specifically for law enforcement, public safety, government and private sector intelligence communities. The first full day of ISS events are dedicated to training and in-depth sessions. Trainings and topics covered throughout the event include how to use cyber to combat drug trafficking, cyber money laundering, human trafficking, terrorism and other nefarious activity that occurs all across the internet.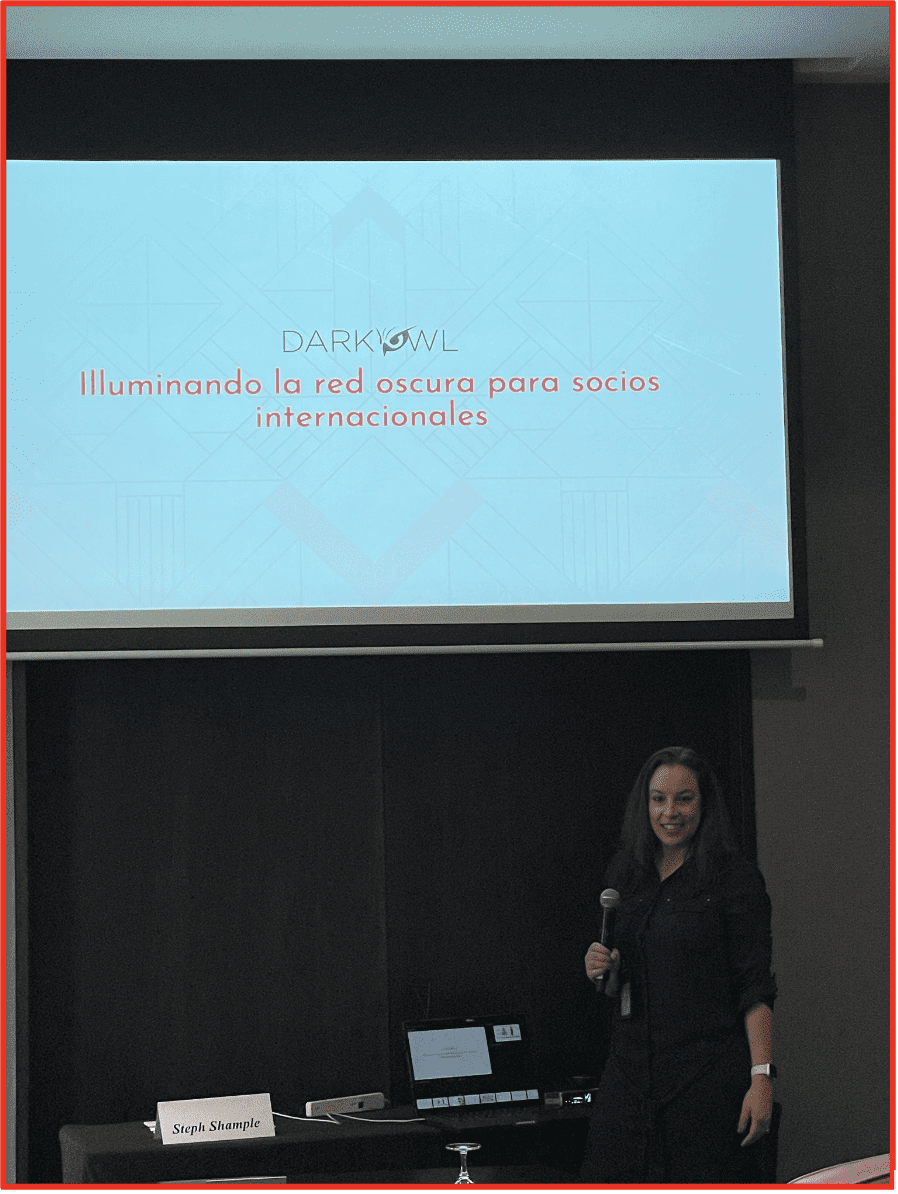 DarkOwl is a regular sponsor of several ISS shows around the world, but this was our first year attending ISS Latin America and we were thrilled with the quality and quantity of conversations and interest. Representing DarkOwl at this year's show was Dustin Smith, Director of Marketing, and Steph Shample, Senior Intelligence Analyst, both based out of DarkOwl's headquarters in Denver, CO.
During the event, Steph lead a seminar on the Use of darknet for National Intelligence and Law Enforcement purposes. This session details the intelligence available on deep/dark web (DDW) platforms, as well as adjacent platforms such as Telegram and Discord, which can be enriched and used by law enforcement and government officials to reduce criminal activity and simultaneously protect national security. Types of intelligence include: tracing financial transactions to illuminate drug, weapon, human trafficking, and other supply chains that contribute to malicious activity, whether fiat or cryptocurrency transactions; hybrid incidents events that threaten both cyberspace and physical safety; and the kinds of equipment, kits, and material sold by criminal actors that contribute to digital attacks against critical infrastructure and key resources (CIKR), threatening the safety of everyday services. Those interested can find a summary of the presentation in Spanish here.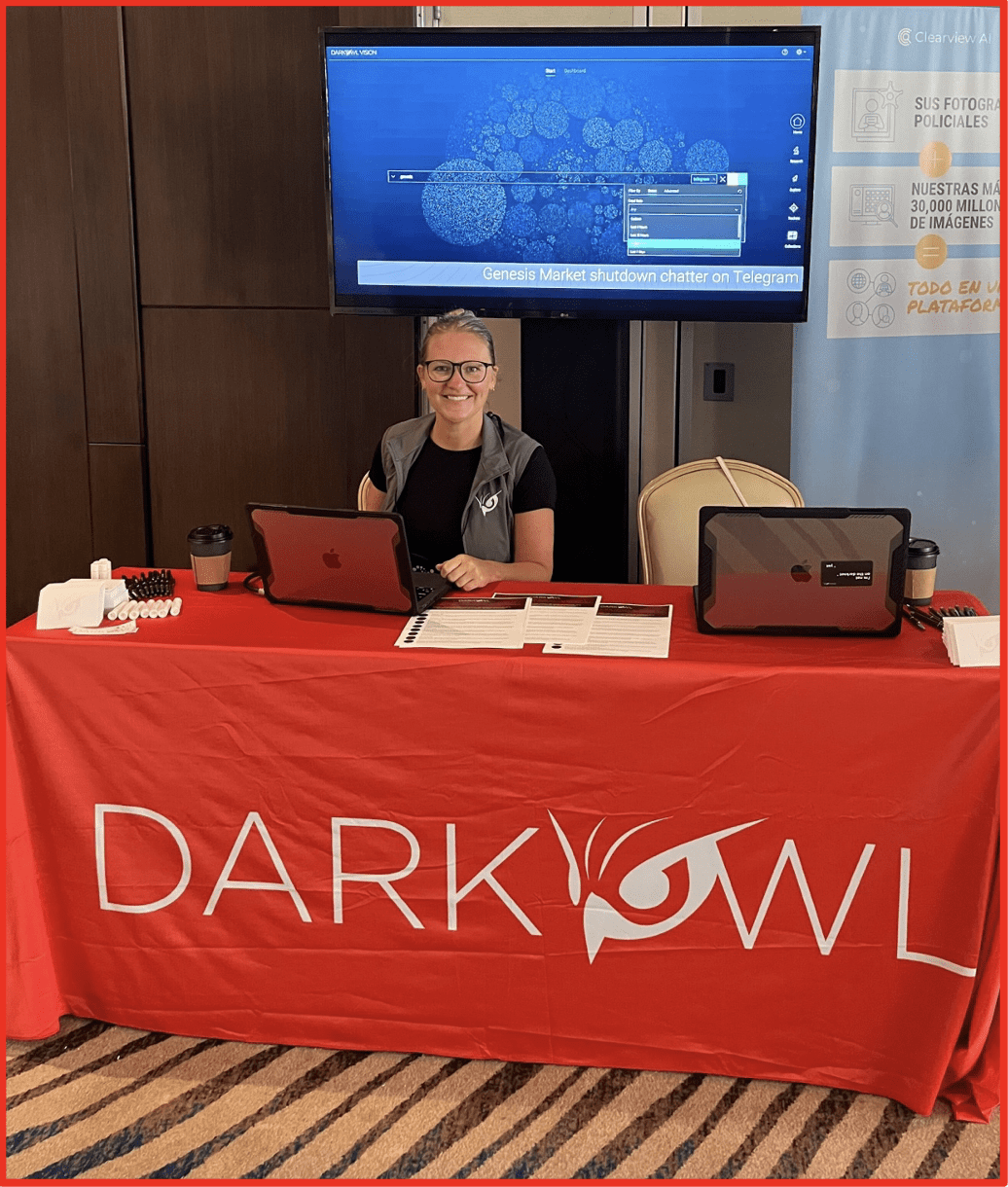 In addition to presenting, Steph and Dustin were able to connect and have several conversations with prospects as well as current clients and partners. Building these relationships face-to-face is invaluable. Visitors at the DarkOwl tabletop included those from Panama, El Salvador, Peru, Mexico, Colombia, Paraguay, Brazil, Guatemala, and Bolivia. Connecting with cybersecurity professionals from around the world and hearing the latest trends, concerns and challenges that they are facing is a huge benefit of ISS shows. Steph shared, "I was blown away by the quality of conversations we had at our table, the need for darknet intelligence is evident and being able to share search results in real time with attendees got everyone really excited."
Due to the layer of anonymity it provides, the darknet is often a hub for illegal activity. However, investigating crime on the darknet and deep web poses technical challenges, including the fact that darknet sites are continually coming on and offline with pages vanishing from one minute to the next. The technology DarkOwl leverages to scrape and index hidden digital undergrounds are key to the mission of obtaining proactive situational awareness for protection of the nation's security initiatives. DarkOwl Vision UI provides a user-friendly interface with powerful querying capabilities to search, monitor, and create alerts for critical information. DarkOwl Vision has been used to support local and federal police investigations, as well as work done in intelligence/fusion centers and federal agencies to uncover human trafficking, opioid selling, terrorism, security issues, and other illegal activity.
DarkOwl looks forward to continuing our presence at ISS World events as part of our ongoing initiative to support the global law enforcement community in their efforts to police illegal and nefarious activity on the darknet.
---
Interested in learning how DarkOwl can help your cyber investigations? Get in touch.