2022 OnRamp Insurance Conference Recap
June 24, 2022
OnRamp Insurance is a yearly conference that brings leaders in the insurance, tech, and insuretech space together to accelerate innovation across the insurance industry. This year's conference was held in Minneapolis at the Allianz Stadium, which was an incredible venue. The event was well represented by various insurers – ranging from large corporations to startups to investors and industry experts.
As a first time attendee, I was pleased with the turnout and quality of lasting connections made. Since one of the primary aims of the event is to provide a platform for integrations and partnerships showcasing various technology and data providers, I was invited to speak on the panel "Cybersecurity within Insurance." I was so pleased to be able to attend and represent DarkOwl, introducing why the darknet data is an essential part to any sort of risk modeling in the cyber insurance or underwriting space.

State of the Union: Cybersecurity Landscape is Shifting
The insurance industry is going through a tremendous shift. Insurers are subject to increased risk, given a variety of geo-political factors. COVID-19 has exposed an increased attack surface for many companies, due to employees working remotely and exposing sensitive corporate data on unsecured home networks.
In addition to this we have seen a tremendous growth in cyberattacks, data breaches and ransomware compromises. The Ukraine conflict has significantly increased supply chain risk to various markets and insurance space is especially at the receiving end to this heightened risk. All these factors lead to a perfect storm.
Panel: Cybersecurity within Insurance
It was a great to see that cybersecurity is starting to become a repeated theme amongst the insurance industry. I was glad to represent DarkOwl and participated in the panel: "Cybersecurity within Insurance," alongside representatives from Trust Stamp and Paladin Cyber.
In our discussion, I defined DarkOwl's approach to risk modeling and loss mitigation specifically for Insurtech. Every entity in the value chain of the insurance space is being disrupted – from brokers to underwriters to carriers – all the way to reinsurers. Each of these is finding ways to apply technology and data sciences to mitigate risk and improve outcomes. Automated underwriting and straight-through processing is taking center stage as companies innovate in the insurtech space.
Insurance carriers, underwriters and reinsurers are forced to find new ways to write policies, factoring in such risks and update policy-writers. There is a clear and present need to get rid of the check list-based underwriting to an automated and risk-based underwriting. We see a need for darknet data and a quantitative and risk-based underwriting at scale for insurers to thrive in this new world order. Similarly to how the FICO score transformed the mortgage industry to underwrite loans, the insurtech space needs a comprehensive risk score to underwrite. And, such a risk score needs to assess darknet exposure to measure risk at scale – not just as a snapshot in time score but a score that is constantly and continuously updated based on the dynamic nature of exposure and threat actors.
"Just like the FICO score set the industry standard on [the insurance market] and underwriting, we believe that the exposure score on the darknet is going to be a simple numeric number that quantifies a company's exposure and therefore, risk."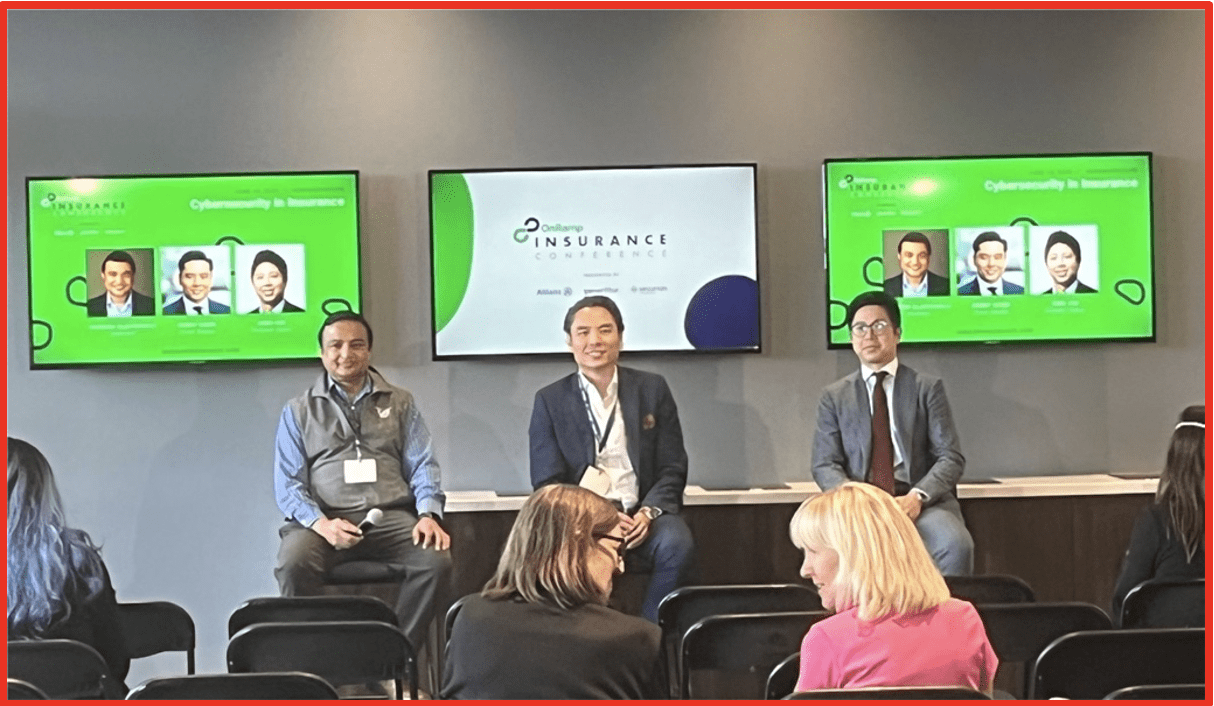 Ramesh Elaiyavalli on "Cybersecurity within Insurance" Panel
Final Takeaways
Risk profiles for organizations have changed significantly. Assessing and modeling risk in 2022 is very different compared to 2019. Be aware of the changes in threat and attack surfaces.
Underwriting screams for automation. There is a clear need for automation, straight through processing and machine learning.
Specialty insurance space is evolving. Nontraditional insurance such as Medical Malpractice, Travel Insurance, embedded (eCommerce) insurance are in high demand.
Darknet data can contribute to risk modeling and assessment at every phase. This data is unique, differentiating, and external insight for various insurers to improve outcomes and mitigate risk.
OnRamp and gener8tor have seen significant growth. Attendees and interest for this insurance-focused event continue to rise. In person events provide the opportunity for significant connections and partnerships.
Overall, DarkOwl received very positive feedback on its business model, products, and platforms. Adding to the conversation around insurance and cybersecurity, led to an increased awareness of our roll as a leader in the darknet data market, as well as our position as thought leaders in the information security space.
---