October 05, 2023
Who are the "Z Bloggers" or "Z Army"
The letter "Z" has been heavily used as a pro Russian invasion propaganda motif since the early days of the invasion in 2022. The "Z" symbol is often associated with images of Russian leaders in the government or military.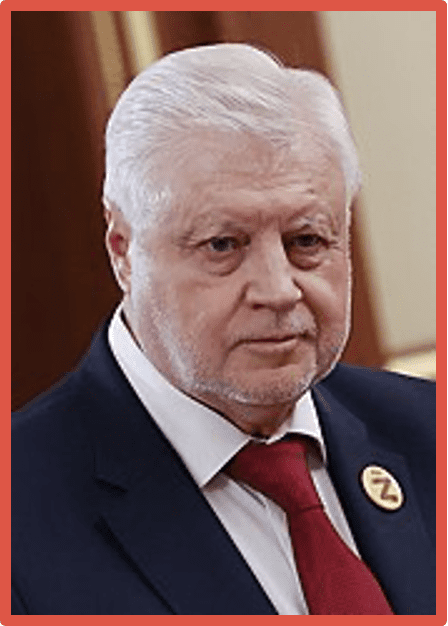 Image 1: Sergey Mironov wearing a pin with "Z" symbol, Governor of Kuzzbass
The symbol is also commonly associated with Russian war journalists, soldiers, and other Kremlin supporters typically used as vehicles for misinformation campaigns on chat platforms like Telegram. The media commonly refers to this group of individuals as the "Z bloggers", the "Z Army", and more generally as war influencers.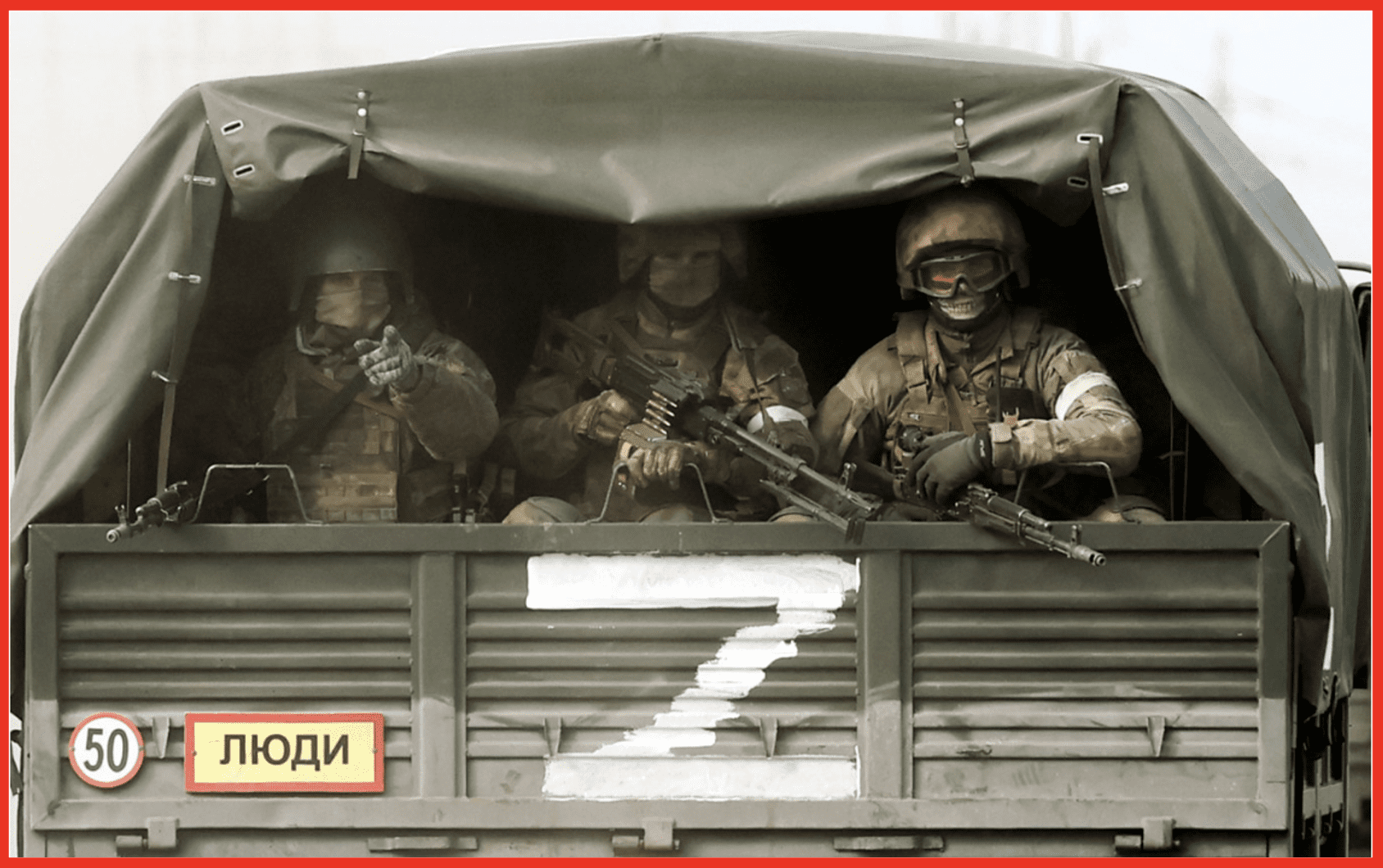 Image 2: Russian soldiers embracing the "Z" symbol on a military vehicle; Source: Moscow Times
The Z bloggers will sometimes display the "Z" somewhere on their Telegram profile (as seen in the below screenshot for WarJournal). Often these "journalists" are embedded on the frontlines with Russian soldiers, which is how they are able to obtain near real-time conflict footage. These videos provide fuel to propaganda aimed towards increasing Russian enlistments into the Armed Forces or Wagner Group.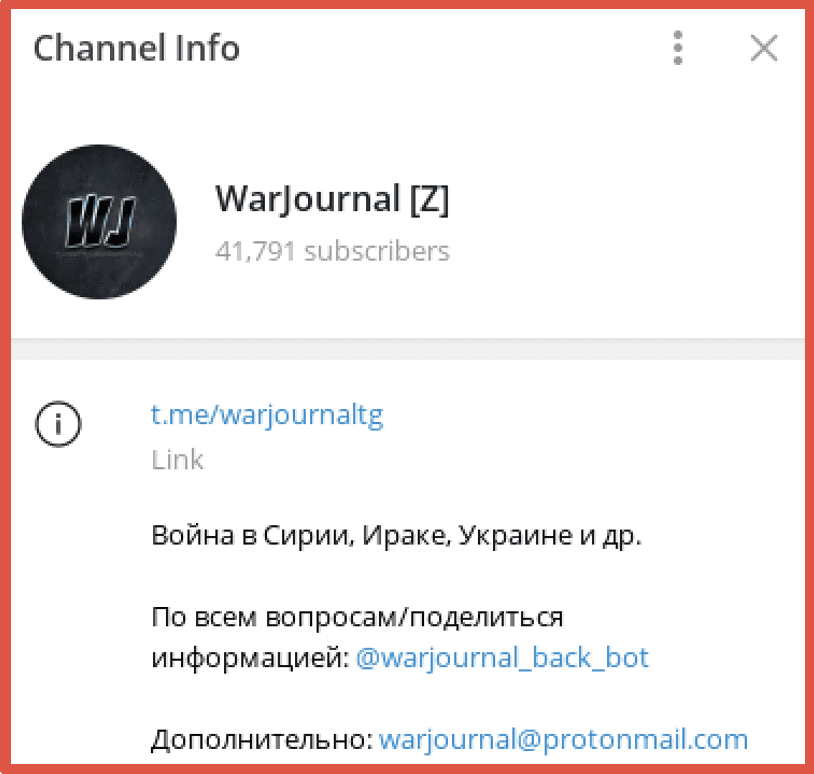 Figure 1: Screenshot of WarJounal's Telegram bio
A recent BBC article reported the sudden increase of Telegram members in various "Z blogger" channels is correlated with a "surge in Telegram's advertising market" like WarGonzo and Grey_Zone. These war influencers have taken advantage of this trend by selling advertisements through Telegram posts to companies looking to reach a younger target audience. According to Telegram's website: "Sponsored messages on Telegram are displayed in large public one-to-many channels with 1000+ subscribers and are limited to 160 characters. Sponsored Messages are based solely on the topic of the public channels in which they are shown. This means that no user data is mined or analyzed to display ads, and every user viewing a particular channel on Telegram sees the same sponsored messages."
This blog will take a look at recent posts from 3 different "Z blogger" channels in an effort to better understand how this content has recently been utilized as a propaganda motif. DarkOwl analysts selected the following Telegram channels for review:
WarGonzo, over 1.2 million subscribers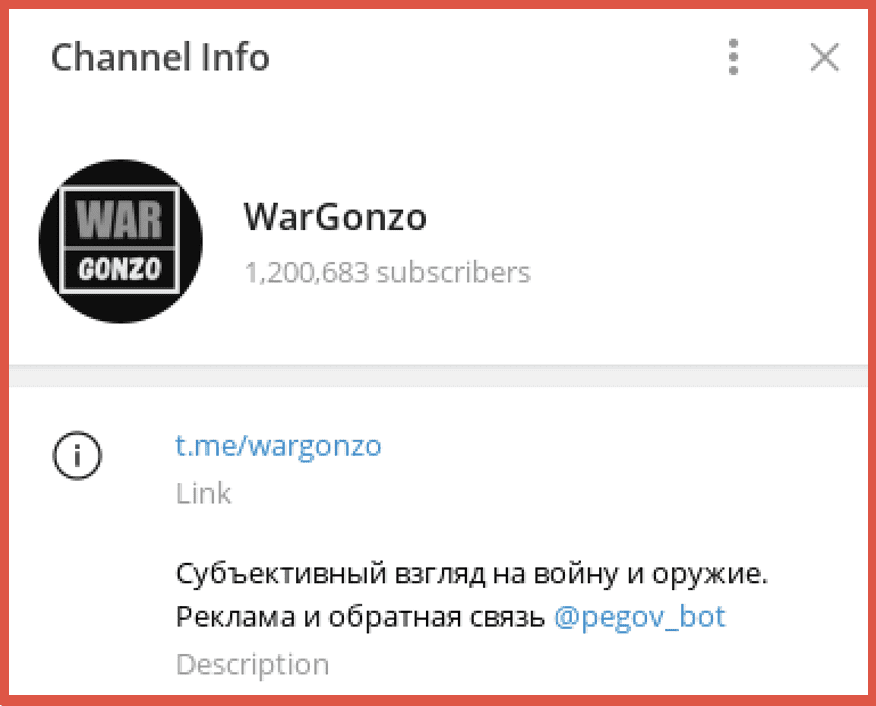 WarJournal, over 41,000 subscribers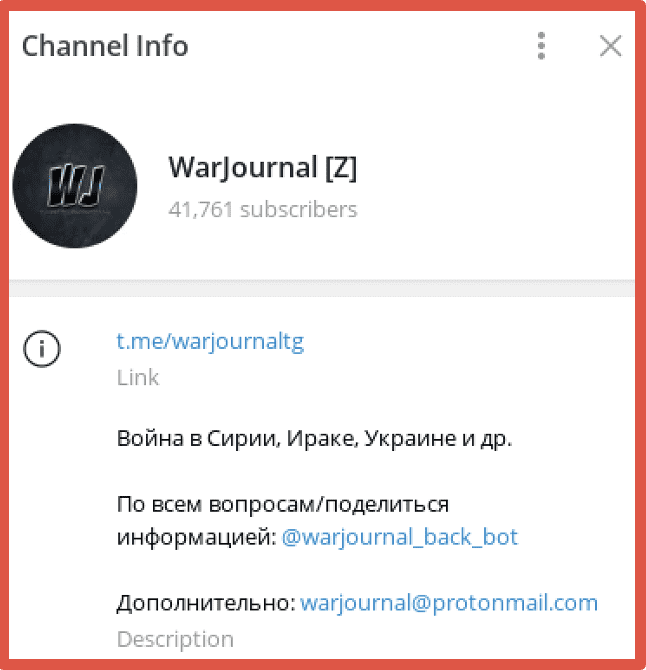 Grey Zone, over 600,000 subscribers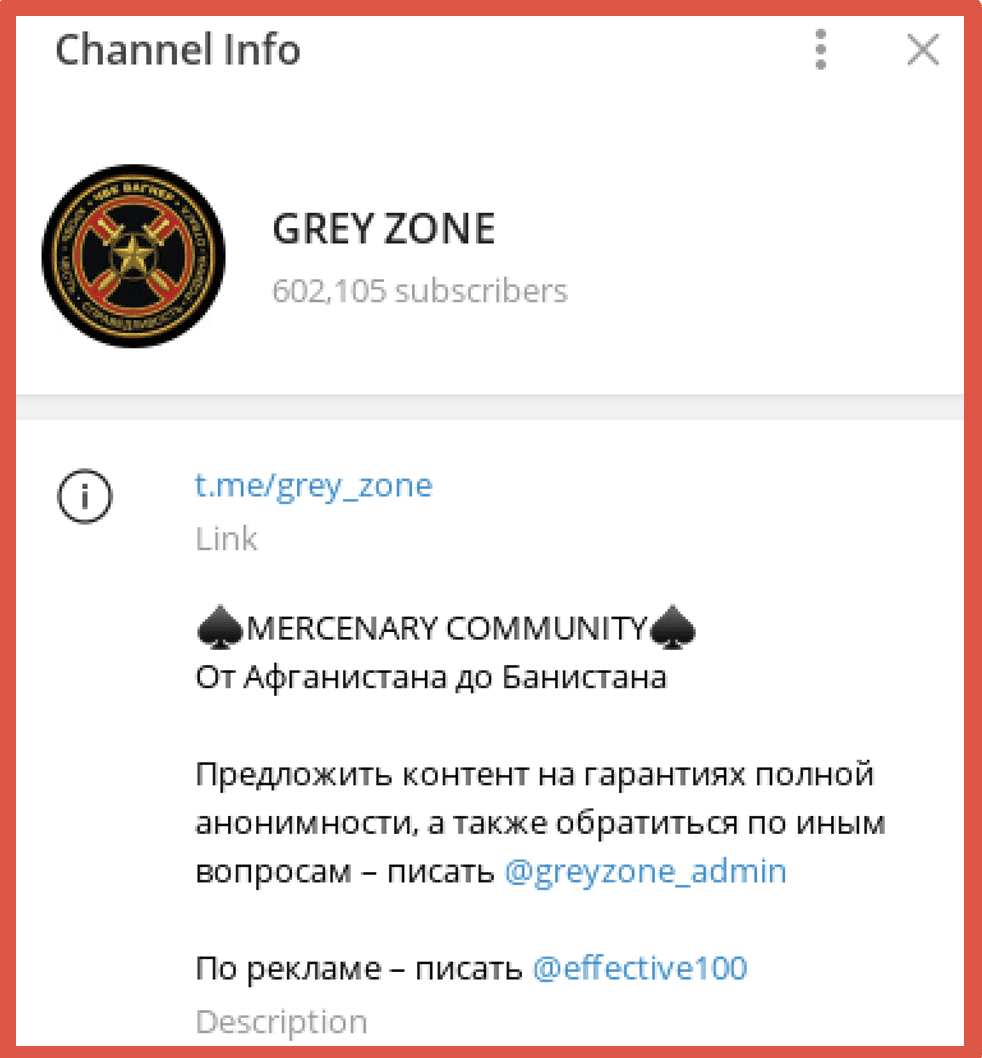 WarGonzo
WarGonzo is one of the most prolific "Z bloggers" with well over 1.2 million Telegram subscribers. This channel is reportedly run by  Russian citizen, Semoyon Pegov, an image of him with Vladimir Putin was posted on X (formerly Twitter) and Telegram in April this year.(see image 3). It is unclear how many individuals are associated with this channel but we have observed multiple "correspondence" posting information and embedded with the military. A representative for 'WarGonzo" was interviewed by the BBC and reported that they make an estimated £1,550 per Telegram post via advertising revenue. Users are able to submit content to advertise by following the instructions and steps (in Russian) using a Telegram bot, @pegov_bot. It is unclear if there are any restrictions on what can be advertised.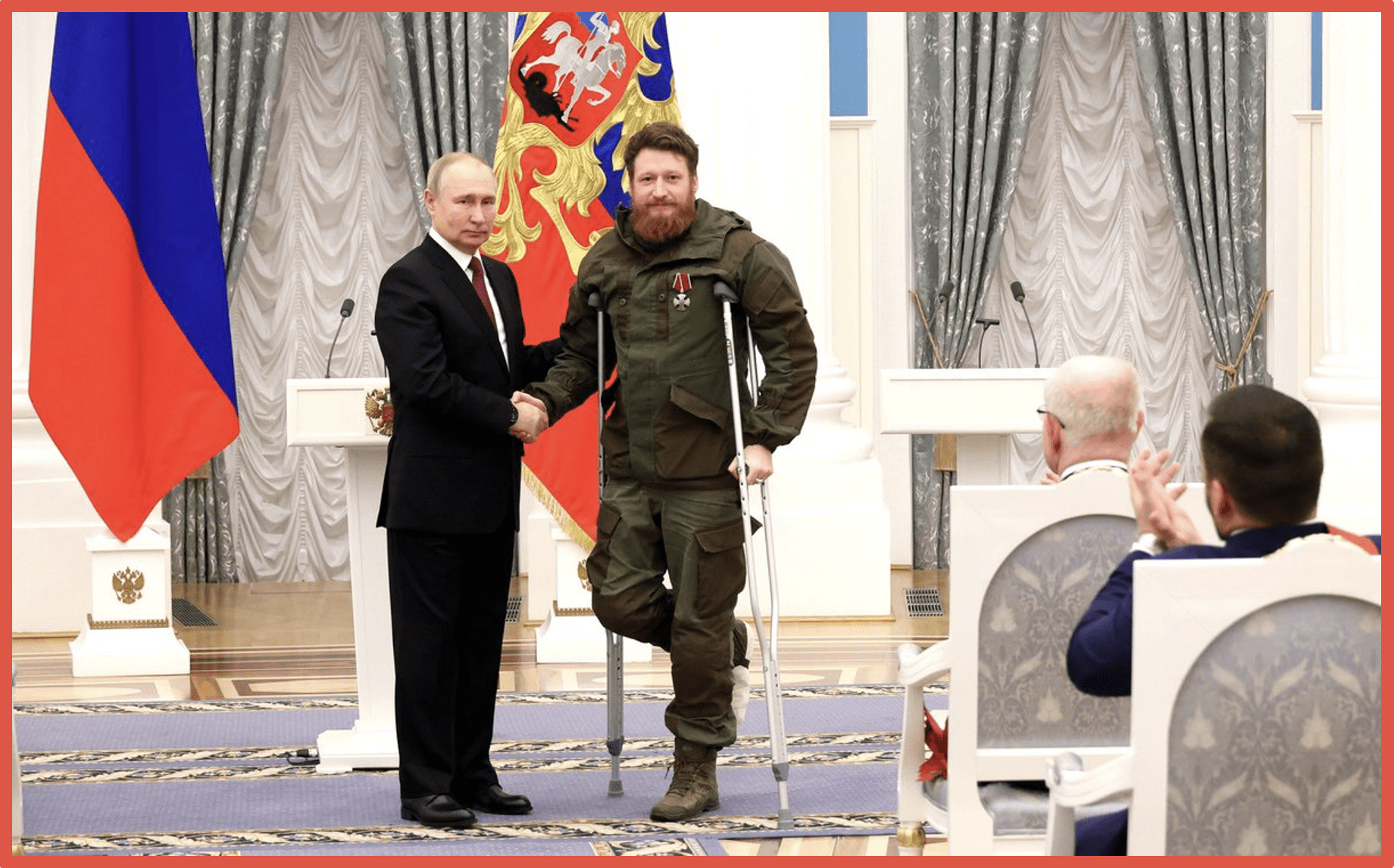 Image 3: Image of Pegov standing with Vladimir Putin; Source: Twitter 04/06/2023
WarGonzo posts at least once a day and often several times a day. For example, on September 26, 2023 there were 10 posts. The content of these posts ranges from interviews from correspondents on the front lines of a conflict in Ukraine or other correspondents reporting on recent escalating events between Azerbaijan and Armenia in Nagorno-Karabakh. The Ukrainian video content is typically more violent often showing images of dead soldiers and civilians immediately following some sort of military kinetic activity (air strike or explosion) whereas in the Azerbaijani videos, the correspondents are dressed in civilian clothes and not on the front lines. This money has helped WarGonzo to expands its coverage to other conflicts such as in Armenia and Azerbaijan. The below screenshot of a WarGonzo post made on Sep 26, 2023 displays a video of a WarGonzo correspondant, named Dmitry Seleznev, reporting on the recent Azerbaijani attack that targeted ethnic Armenians in the town of Goris: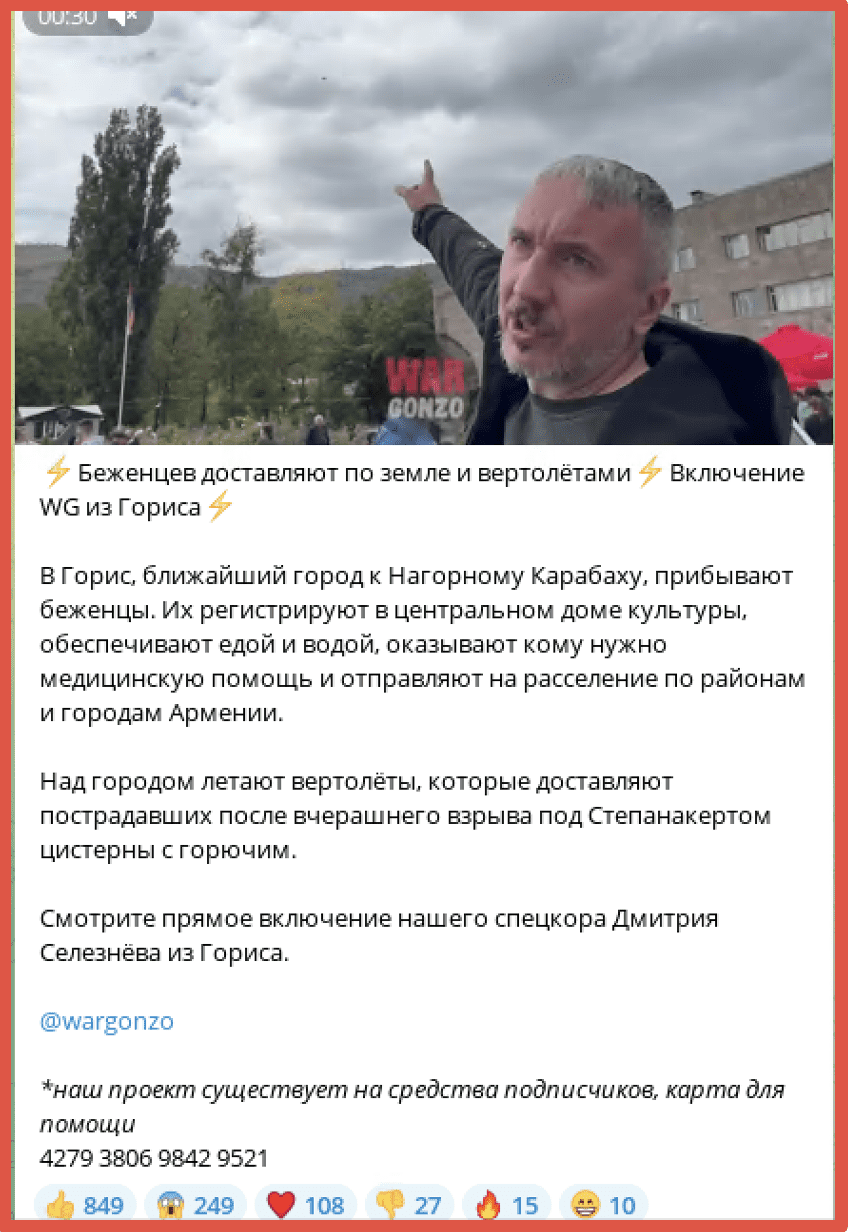 Figure 2: Image from WarGonzo's Telegram channel
[TRANSLATED IMAGE]
⚡️Refugees are delivered by land and by helicopter⚡️Activation of WG from Goris⚡️
Refugees are arriving in Goris, the closest city to Nagorno-Karabakh. They are registered at the central house of culture, provided with food and water, given medical care to those who need it, and sent to be resettled in the regions and cities of Armenia.
Helicopters fly over the city, delivering victims after yesterday's explosion of a fuel tank near Stepanakert.
Watch the live broadcast of our special correspondent Dmitry Seleznev from Goris.
@wargonzo
*our project exists on the funds of subscribers, a card for help
4279 3806 9842 9521
WarJournal
WarJournal, is another "Z blogger" Telegram channel, where the content creators are embedded with Russian soldiers on the front line, and has a large following with over 41,000 subscribers. Content published on this channel is similar conflict content to WarGonzo, utilized to motivate Russians to enlist in the army.
The following screenshot was taken from a recent post on September 26, 2023, which depicts the Russian Air Force destroying a bridge with a X-38 aircraft missile over the Oskol River. Users reacted 41 times using the "thumbs up" emoji and 14 times using the "fire" emoji. DarkOwl analysts identified the forwarding Telegram channel where this information was originally posted on the same date, РаZвед_ДоZор (t.me/razved_dozor), which is yet another war influencer apart of the "Z blogger" network.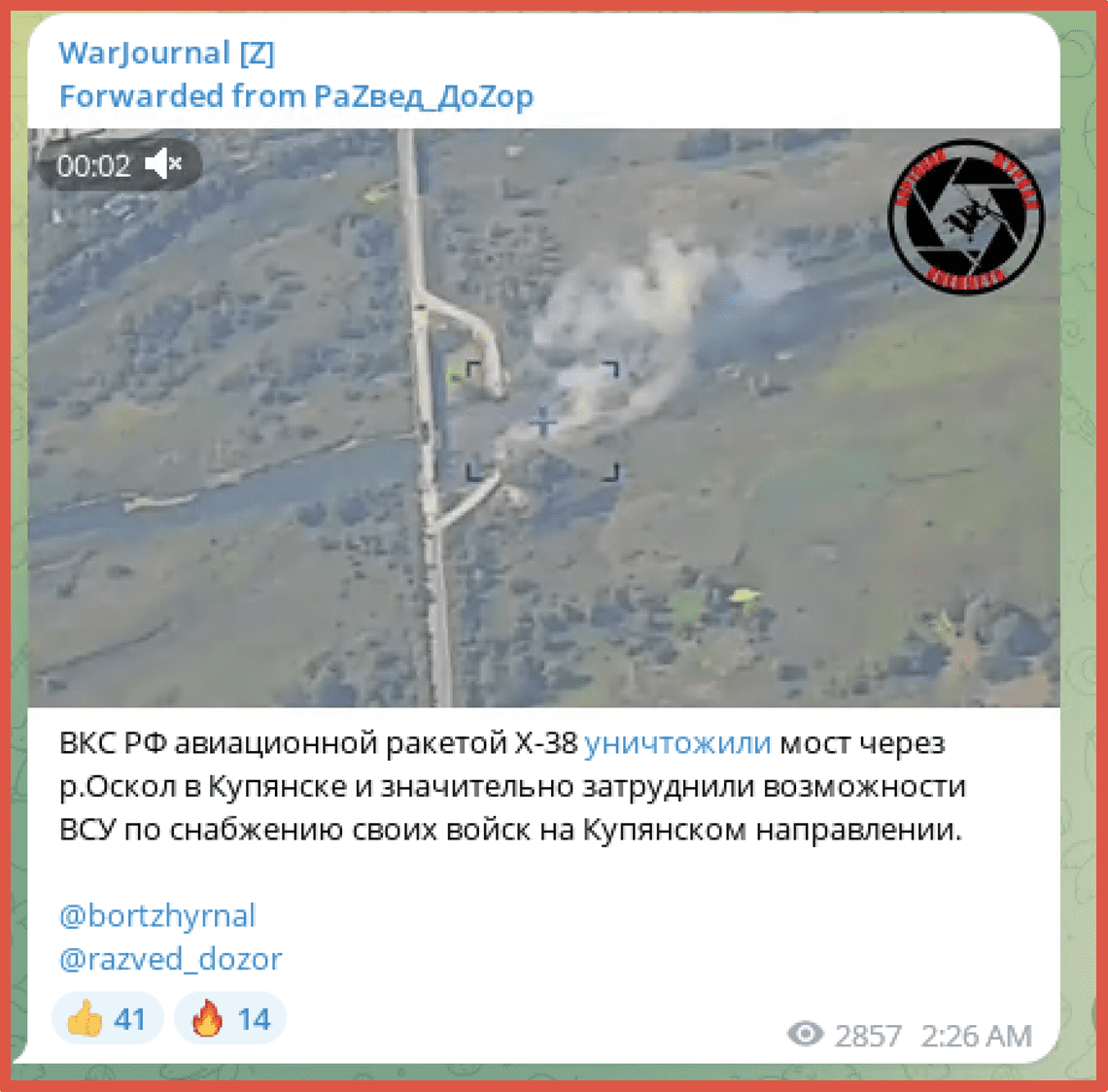 Figure 3: Image from WarJournal's Telegram channel
[TRANSLATED IMAGE]
The Russian Air Force used an X-38 aircraft missile to destroy (https://t.me/bortzhyrnal/139) the bridge across the Oskol River in Kupyansk and significantly hampered the ability of the Ukrainian Armed Forces to supply its troops in the Kupyansk direction.
Grey Zone
Grey Zone is another "Z blogger" account that identifies as an official channel for the Wagner Group. Open Source reporting has not identified one particular individual running this channel at this time, however, according to its Telegram bio the username, @greyzone_admin, is the channel admin.
Grey_Zone also has a large Telegram following with well over 602,000 subscribers as of September 27, 2023. The BBC also reported that this channel reportedly makes £260 per post. The content shared on this channel is consistent with other "Z bloggers;" they display near real time conflict videos, images honoring dead soldiers, and other Pro-Russian propaganda motifs that are intended to motivate Russian sympathizers to enlist with the Wagner Group.
The below screenshot is an example of this, referring to a Wagner Group "hero of Russia."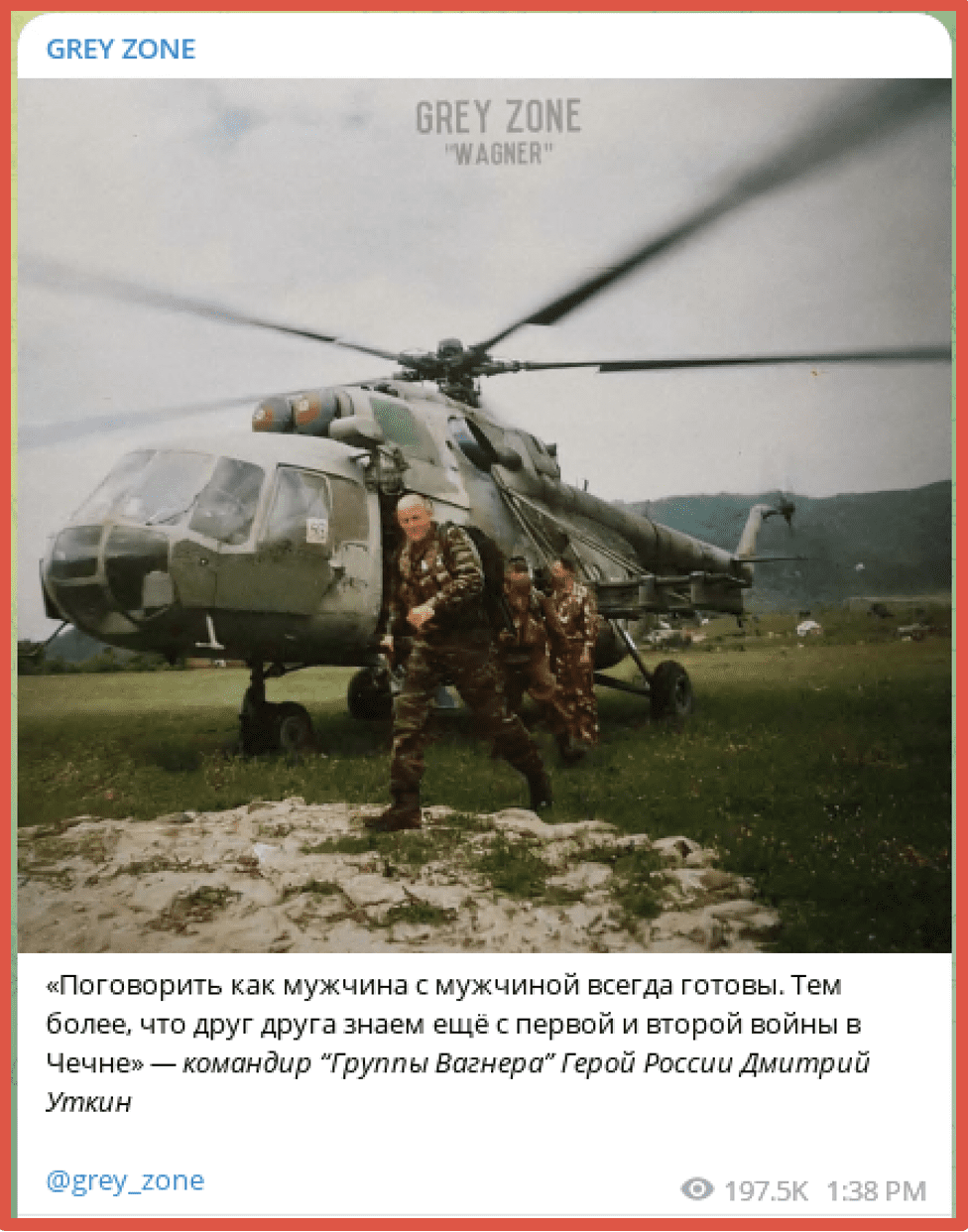 Figure 4: Image from Grey Zone's Telegram channel
[TRANSLATED IMAGE]
"We are always ready to talk man to man. Moreover, we have known each other since the first and second wars in Chechnya" – commander of the "Wagner Group" Hero of Russia Dmitry Utkin.
The style of this image is reminiscent to the imagery used in Jihadist martyrdom posts from groups affiliated with ISIS or Al Qaeda. The image below illustrates a martyrdom post created by an Indian Al Qaeda affiliate called the Ansar Ghazwat-ul-Hind (AGH) in June 2019: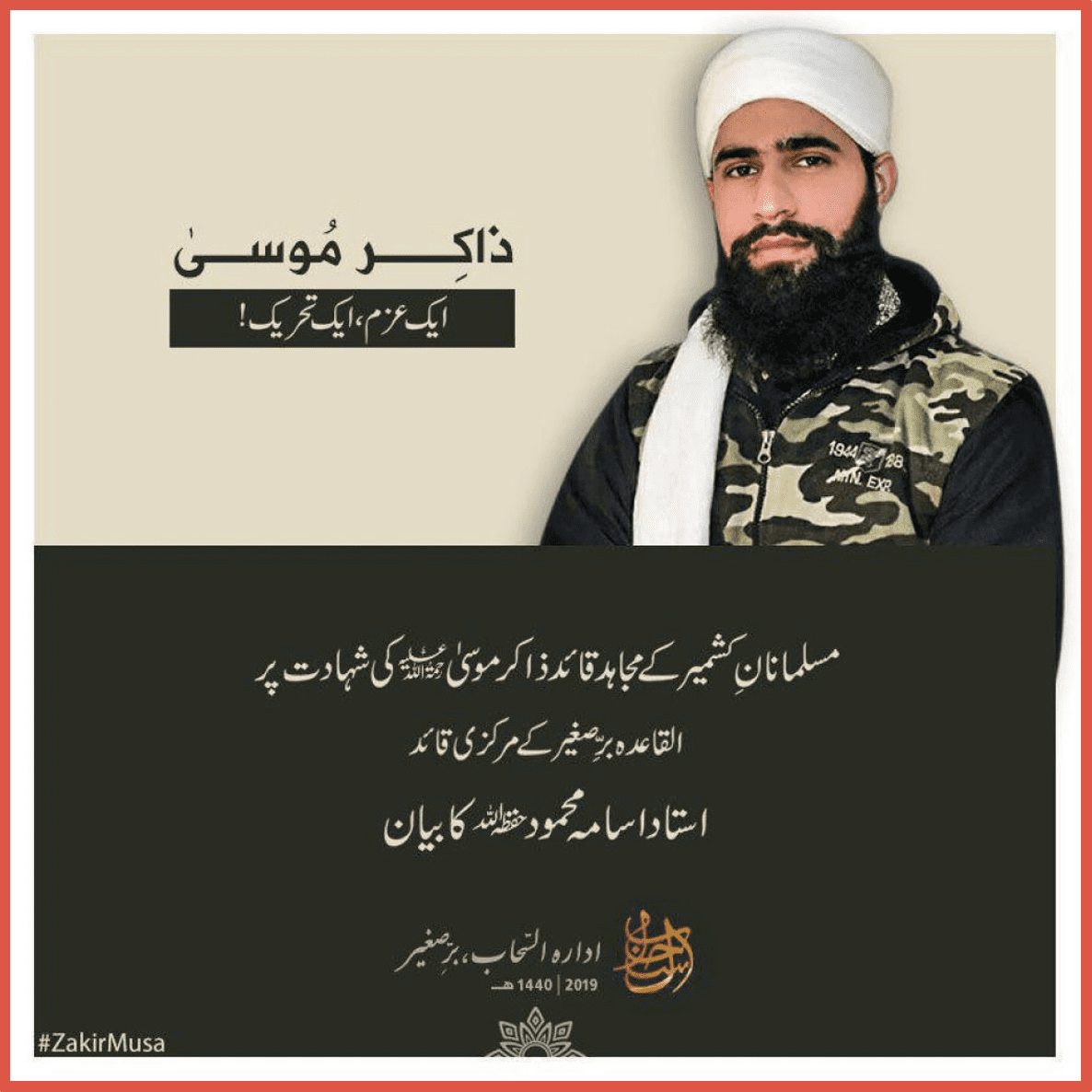 Figure 5: Image of an AGH martyr, Long War Journal
Conclusion
DarkOwl analysts assert it is highly likely that Russia will continue to expand the reach of its propaganda campaigns through chat platforms like Telegram. Since the outbreak of the Russian invasion of Ukraine, the use of Telegram has been integral to the spread of Russian misinformation by a cohort of supporters that have become known as the "Z bloggers" or "Z army". The recent BBC article highlighted how influential accounts like WarGonzo and Grey_Zone are able to make hundreds to thousands of dollars a day from Telegram posts. WarGonzo now has the budget to report on conflicts in nearby countries such as the current ethnically charged violence towards Armenians in Goris.
---