July 26, 2022
NEW: Interactive Timeline Key Cyber Operations
In DarkOwl's regular daily collection of content for its Vision SaaS platform, we often witness criminal communities being disrupted and dispersed by law enforcement operations. Usually, these operations are carried out covertly until enough evidence has been gathered to shut down the illicit operation. At that point, oftentimes, the law enforcement group will conduct heavy DDoS attacks (or other attack methodologies) against the marketplace or forum to shut it down, leaving a "this domain has been seized" notice on a website's landing page.
In this piece, we decided to take a closer look at some of the key intelligence agencies, government groups, and law enforcement organizations that contribute to policing the darknet through targeted cyber operations.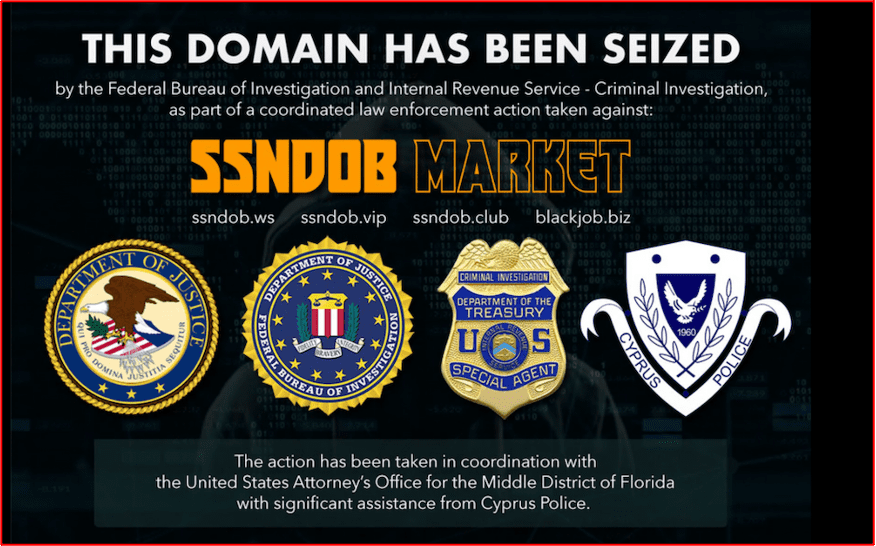 The darknet – compromised of anonymous networks only accessible by special anonymous proxies and/or peer-to-peer systems – is an elaborate web of services. Based on our historical insight into this space, our analysts ascertain that the darknet is largely compromised of criminal activity ranging from the sale of drugs and illicit goods and humans to advanced malware development, data brokerage, fraud, and financial crime. Recent academic research indicates that over half of all Tor-based onion services facilitate crime in some form or fashion.
Much of this criminal activity spills over into the deep web and chat platforms like Telegram where many of the leading administrators establishing 'mirror' sites and channels that replicate much of the content shared across Tor and peer-to-peer anonymous networks.
International intelligence, military, law enforcement personnel, and other cybercrime agencies are present both overtly and covertly on the darknet. Marketplace and forum discussion threads are sprinkled with users dismissing posts with derogatory name-calling like "pig" or "spook."
In 2019, the US Central Intelligence Agency (CIA) replicated their Surface Website (cia.gov) on the Tor network, including the agency's public announcements, the World Factbook, and careers page all available reportedly via 'secure and anonymous' web connections.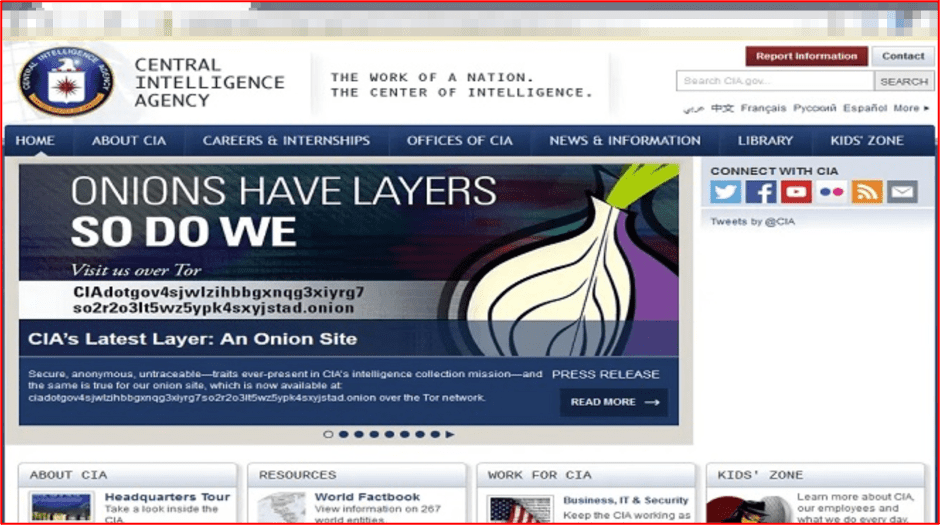 In early May, the CIA launched a concerted campaign to encourage Russians dissatisfied with Putin's invasion of Ukraine to "get in touch on the darknet." The campaign included detailed instructions in both Russian and English for downloading the Tor browser and accessing their content Tor.
There are any number of organized law enforcement operations on-going in the darknet and adjacent criminal communities. Many times, the seizures of servers hosting and facilitating cybercrime are a result of a multi-agency activity months (or years) in the making. Agents from the Federal Bureau of Investigation's Cyber Crime Unit (FBI) and Interpol lead many of the operations that result in not only the take-down of criminal sites, but also the indictments and arrests of the criminal masterminds behind the darknet community.
With so many different groups operating in the space and most heavily rely on acronyms, we've compiled a list of the prominent international government, intelligence, and law enforcement organizations that we've seen mentioned in significant operations carried out on the darknet. The table below includes their common and formal names, as well as the countries they primarily operate in.
Law Enforcement Agencies (LEAs) on the Darknet
LEA Acronym
or Common Name

Agency

Country
ATF
Alcohol, Tobacco & Firearms
USA
ACIC
Australian Criminal Intelligence Commission
Australia
Bundeskriminalamt
Austrian Federal Investigation Bureau
Austria
NIS
Bulgarian National Investigation Service
Bulgaria
BKA
Bundeskriminalamt (Federal Criminal Police Office)
Germany
RCMP/Mounties
Royal Canadian Mounted Police
Canada
CIA
Central Intelligence Agency
USA
CIB
Criminal Investigation Bureau
International
Αστυνομία Κύπρου
Cyprus Police
Cyprus
DHS
Department of Homeland Security
USA
DOJ
Department of Justice
USA
EC3
European Cybercrime Centre
European Union
FBI
Federal Bureau of Investigation
USA
FSB
Federal Security Service (Federalnaya Sluzhba Bezopasnosti ФСБ)
Russia
FinCEN
Financial Crimes Enforcement Network
USA
GDCOC
General Directorate Combating Organized Crime
Bulgaria
GCHQ
Government Communications Headquarters
UK
HSI
Homeland Security Investigations
USA
IRS:CI
Internal Revenue Service, Criminal Investigation
USA
IDF
Israel Defense Force
Israel
JCODE
Joint Criminal Opioid and Darknet Enforcement (DOJ)
USA
GRU
Main Intelligence Directorate
Russia
NCA
National Crime Agency
UK
NCJITF
National Cyber Joint Investigative Task Force
USA
DNRED
National Directorate of Intelligence and Customs Investigations
France
NSA
National Security Agency
USA
NCIS
Naval Criminal Investigative Service
USA
KLPD
Netherland's National Police
Netherlands
OFAC
Office of Foreign Assets Control
USA
PSNI
Police Service of Northern Ireland
Ireland
PF
Policia Federal
Mexico
NPB
Polisen Swedish Police
Sweden
PJ
Portuguese Judicial Police (Polícia Judiciária)
Portugal
SBU
Security Service of Ukraine (СБУ)
Ukraine
Europol
European Union Agency for Law Enforcement Cooperation
European Union
Interpol
International Criminal Police Organization
International
CBP
U.S. Customs and Border Protection
USA
ICE
U.S. Immigration and Customs Enforcement
USA
USDT
United States Department of the Treasury
USA
USPIS
United States Postal Inspection Service
USA
USSS
United States Secret Service
USA
DOD
United States Department of Defense
USA
DEA
United States Drug Enforcement Agency
USA
Stay tuned for future content where we review some of the most historically significant and disruptive darknet "operations" conducted by these organizations. Our interactive timeline is now live!
---
Learn how DarkOwl supports Law Enforcement & National Security investigations with darknet data tools built for analysts, cybercrime agencies and threat intelligence teams. Contact us to learn more.