March 24, 2023
Last week, DarkOwl participated in GISEC Global in Dubai, UAE. GISEC Global describes themselves as, "the leading gathering ground for the cybersecurity community worldwide." At the event, one can expect the top government dignitaries and cyber leaders, CISOs from major corporations, regional and international innovators and global experts from top cybersecurity enterprises from 40 countries in the Middle East, Africa, and Asia. Every year cyber incidents cost 6 trillion dollars… GISEC attendees come together to lead cybersecurity transformations across sectors and nations to solve this problem by learning from the best to boost cyber resilience for a safer digital future.
Representing DarkOwl at GISEC Global was David Alley, CEO of DarkOwl FZE based in Dubai and Richard Hancock, Darknet Intelligence Analyst and Sales Engineer, based out of DarkOwl's headquarters in Denver, CO. David Alley shared, "As almost all aspects of work and life have gone digital and the global digital landscape keeps changing, it is more important than ever that all strengthen their cybersecurity measures." GISEC Global offers a platform for just this to happen; key industry leaders come together in order to stay ahead of potential threats, discover innovative strategies and remain secure from major disruptions.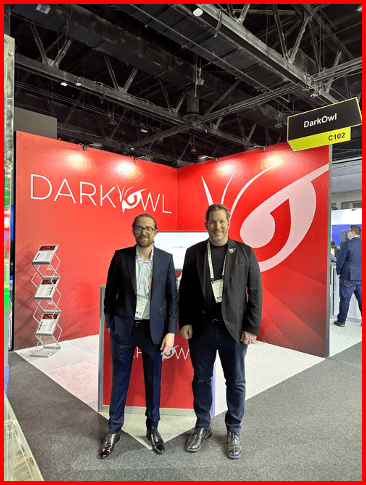 In addition to networking and conversations at the booth, top minds of the space have the platform to share thought leadership, innovations and the latest in the cyber security space. Speakers were present from all around the world, including the UAE, Malaysia, USA, Singapore, Nigeria, India, South Africa, Egypt, Oman, Jordan, and many more. Topics ranged from why API's are critical attack vectors and how to secure them, to transforming the role of the CISO, to unlocking true AI potential. There were several stages dedicated to different topics throughout the event: government, critical infrastructure, darknet, women in cybersecurity, and national security. In addition, there were halls dedicated to just trainings, meetings and hands on workshops. This is a major benefit of GISEC Global – the emphasis on thought leadership, sharing information and education.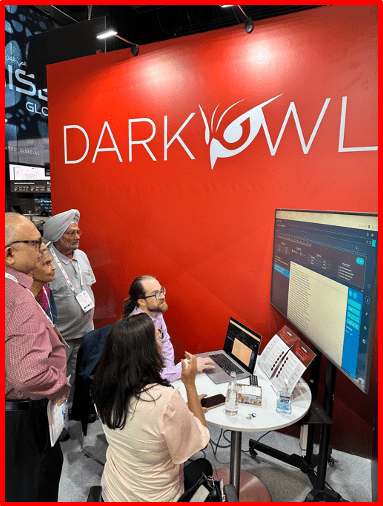 The DarkOwl team remained busy over the three days manning the booth, meeting new prospects and showcasing our industry leading darknet platform, Vision UI. David stated, "David Alley commented, "the traffic on the booth was non-stop." In addition, the team was lucky to have several current clients and partners in attendance, including HWG and Pegasus Intelligence. David and Rich spent time understanding how we can best optimize and elevate our current partnerships and how we can continue to provide the most value as their darknet data provider.
DarkOwl is excited for GISEC Global in 2024 and to see the show grow for another year in a row.
---
DarkOwl looks forward to continuing their presence at several international events in the future. You can see what conferences we will be attending coming up and request time to chat with us here.