Last Updated August 28, 2023 – 9:00 EST
August 28, 2023 – 9:00 EST
Over the weekend, on Sunday, it was reported that Russian investigators officially stated that genetic tests confirmed that Yevgeny Prigozhin, was in fact in the plane crash and a victim of that crash. As mentioned in the previous posting, conclusions should not be made until confirmation from a source outside of Russia has also confirmed the death. More can be read on the Russian investigators statement here.
---
August 25, 2023
The leader of Russian Mercenary Group Wagner, Yevgeny Viktorovich Prigozhin's life reportedly ended on 23 August in a plane crash outside of Moscow near Tver, Russia. The world witnessed Prigozhin try to undermine, betray, and even overthrow Russia's Vladimir Putin when he orchestrated a coup in June 2023. Anyone following Russian geopolitics knows that even questioning Putin earns a jail sentence or torture session; to openly declare mutiny against Putin and march on Moscow almost certainly sealed Prigozhin's death, with many in the global community awaiting an announcement of Prigozhin's death sooner rather than later.
However, there is another more complicated, vague aspect to this. Russia is one of the most sophisticated intelligence actors in the world. Putin himself, as a former high ranking KGB intelligence officer, has crafted successful intelligence operations his entire life, even after leaving the KGB. Is all this a distraction, or a ploy to mislead the West, and those who support Ukraine? Prigozhin is only suspected to have been onboard the plane. It is not outside of the norm or capability, in Russian intelligence operations, to falsify a plane's passenger manifest. Much of the global community was surprised that Prigozhin stayed alive as long as he did after his declared mutiny, and furthermore, taking "refuge" in a Putin-sympathetic country, Belarus, was also questionable. Many think that Prigozhin and Putin were working together to stage this event, and that same suspicion surrounds Prigozhin's purported death.
DarkOwl analysts outline chatter on the darknet and darknet adjacent sites using DarkOwl Vision and will continue to do as developments occur.
What is Russia's End Goal?
In 2019, rumors also circulated about the death of Prigozhin, and it was also purportedly caused by a plane crash. Until there is cemented intelligence and pictures from outside of Russian sources, this entire event and surrounding should be considered unconfirmed. Prigozhin has multiple passports, and even has body doubles that travel for him to remain elusive and shrouded in mystery. On Telegram channels, speculation surrounding the Prigozhin event is running rampant, even within the Wagner channels:

Figure 1: Conspiracy theorists on 4Chan debate who was involved in causing Prigozhin's death; Source: DarkOwl Vision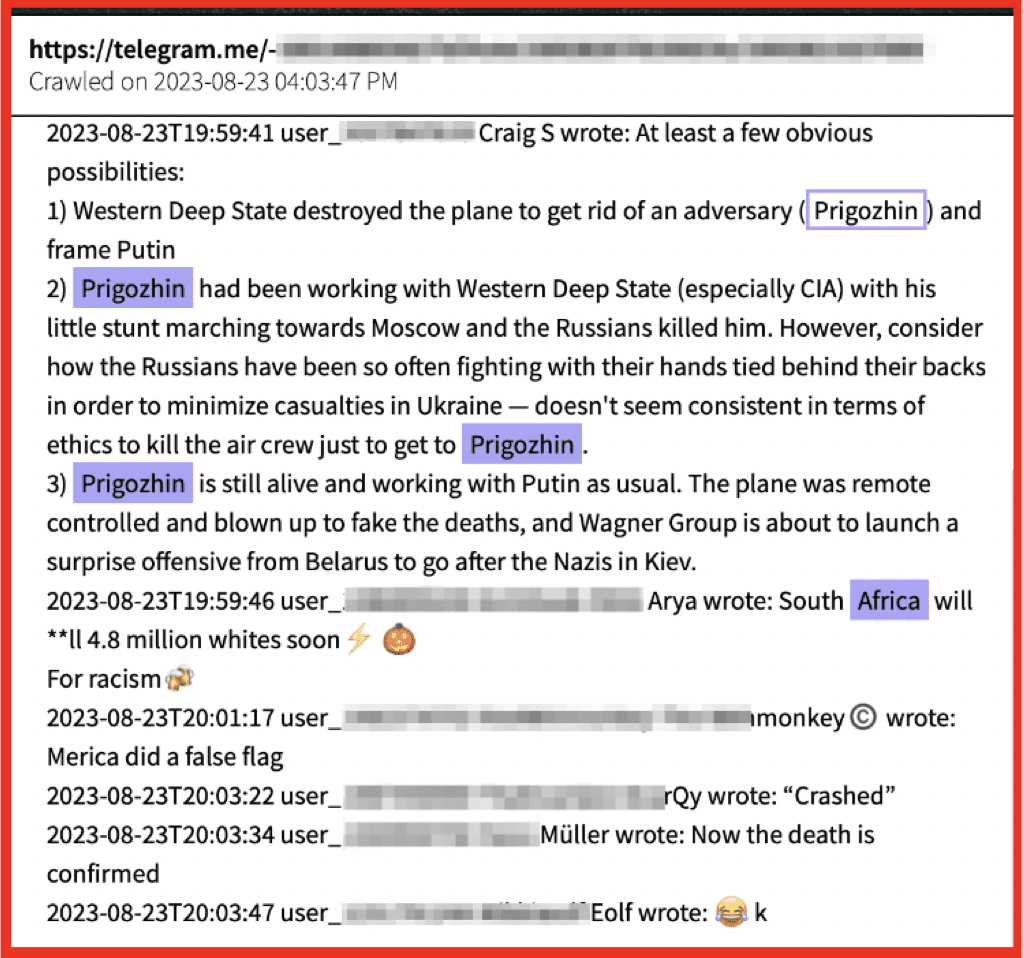 Figure 2: Additional theories circulate regarding the actual reasons for the death of Prigozhin; Source: DarkOwl Vision
Regardless of the final outcome of Prigozhin, what happens to Wagner now? Whether dead or alive, Prigozhin will likely not publicly lead Wagner.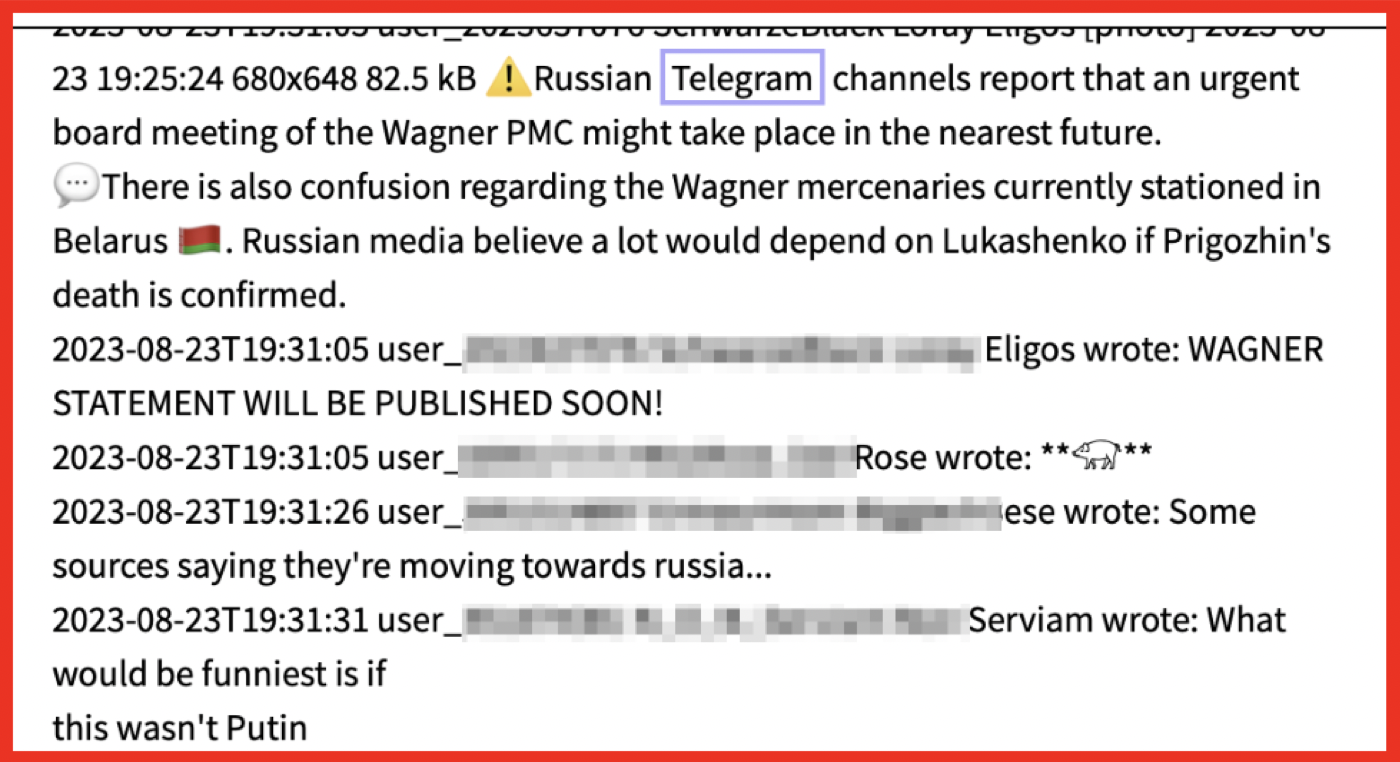 Figure 3: Telegram chatter speculating what the next steps of Wagner might be; Source: DarkOwl Vision
Emotional outpourings and memorials have also popped up, both within and outside of Russia, demonstrating some sympathy for Wagner members: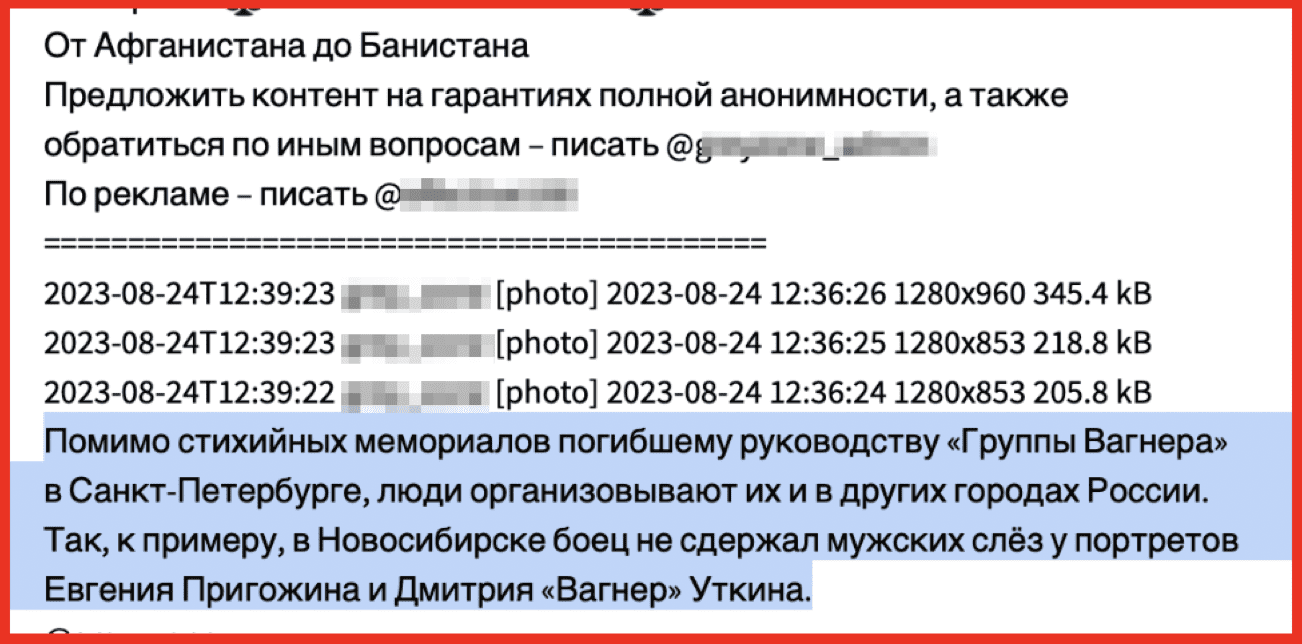 Figure 4: A telegram post detailing memorials for Prigozhin and Utkin; Source: DarkOwl Vision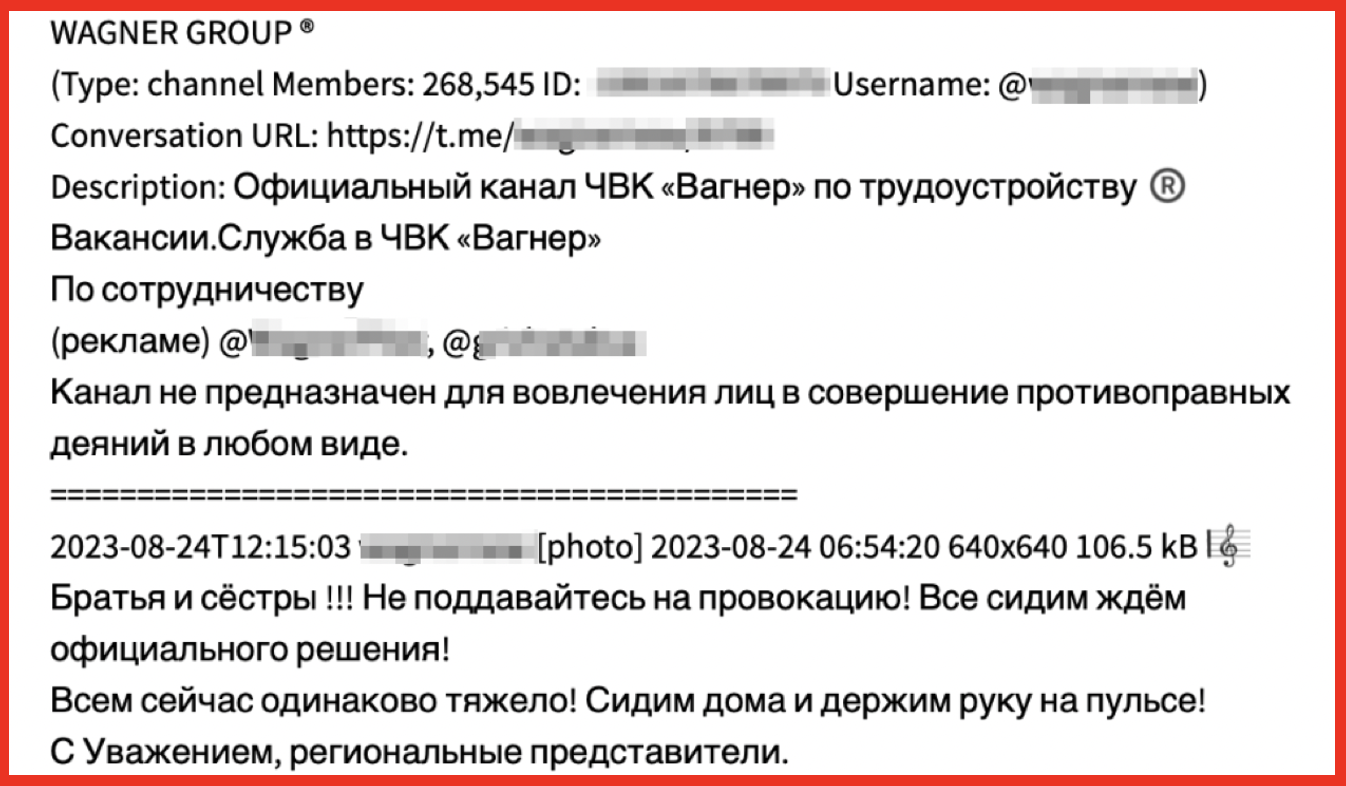 Figure 5: More chatter and commentary about the memorials for the likely deceased Wagner members; Source: DarkOwl Vision
Speculation Runs Rampant
Speculation is rampant among the community following Wagner:
Will they completely disband? Not only was their number one leader possibly killed, but reportedly, Wagner's number two, Dmitriy Utkin was also onboard the plane, and presumed dead along with Prigozhin. A top aide of Prigozhin, Valeriy Chekalov, is the third rumored high ranking Wagner member on board. In addition to the high ranking Wagner members, other suspected Wagner mercenaries were also reportedly on board. The exact number is not confirmed as the passenger manifest is still being compared to the Wagner member manifest.
Will Wagner exact revenge against the Kremlin? Prigozhin and several Wagner members were openly critical against Russia's handling of the war in Ukraine. The death of several members could galvanize support for a bloody Wagner rebellion, especially since the Ukraine war is not going in Russia's favor.
Will Wagner move operations completely? Perhaps they abandon the risky area of operation, which is Eastern Europe. Russian personnel are all over that area. Belarus, which was temporarily Prigozhin's safe space after his attempted mutiny, is led by Putin friend and sympathizer Alexander Lukashenko. Wagner already has several African strongholds: Libya, Mali, Sudan, and the Central African Republic (CAR). Shortly before his death, Prigozhin even encouraged Wagner to move operations and all focus to Africa. This is a strong possibility, and a potential safer area of operation for Wagner.
On the complete opposite spectrum, perhaps Wagner will establish a stronghold in Belarus. They are still present in the country in large numbers. Belarus has also acted as a staging area for Russian troops during the entire invasion of Ukraine, with trains, military members, and weapons often originating from Belarus before going into Ukraine. Russian and Belarusian ally Iran also has a footprint in Belarus, and could assist with Wagner operations.
Who will replace Prigozhin?
Monitoring the Situation
DarkOwl is closely monitoring the official Telegram channels of the Wagner group to see what unfolds after the crash that claimed the lives of multiple Wagner members. While rumors emerged that Wagner would be quick to avenge Prigozhin, and act against the Kremlin, DarkOwl does not see any reflection of this chatter in the Wagner Telegram channels. They are instead urging caution and to wait for official reports to confirm the death: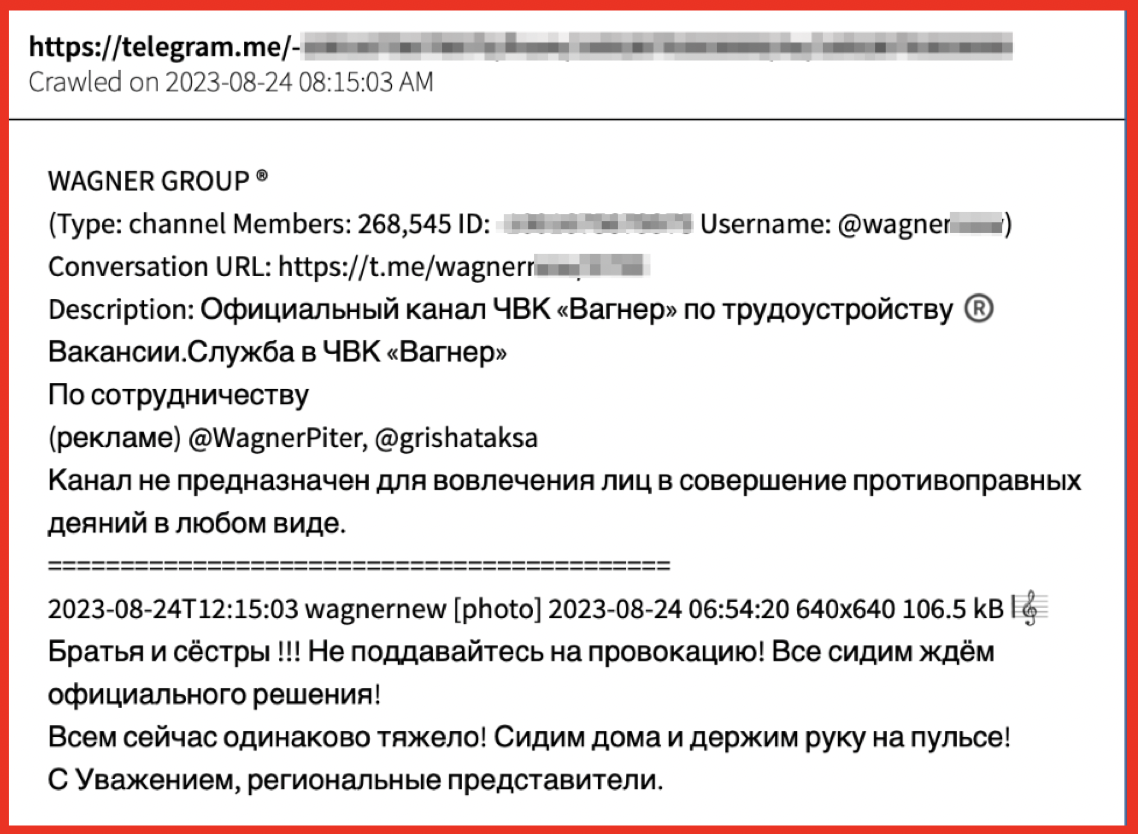 Figure 6: Official WAGNER Telegram channel cautions waiting for the official announcement regarding Prigozhin's death, intimating even Wagner members do not yet believe the incident is complete; Source: DarkOwl Vision
---
Be the first see to get our research updates. Subscribe to email here.