October 7, 2022
In light of Cybersecurity Awareness month, DarkOwl is committed to sharing resources from our researchers and analysts that touch on safety best-practices and key trends in the global cybersphere based directly on insights from the darknet.
Be the first to know as we release new research by entering your email below!
Featured Content
WHITEPAPER
Tensions Between China & Taiwan Realized on the Darknet
In this report, DarkOwl researchers provide insights and analysis from the darknet on how tensions between China and Taiwan are impacting the cyber underground.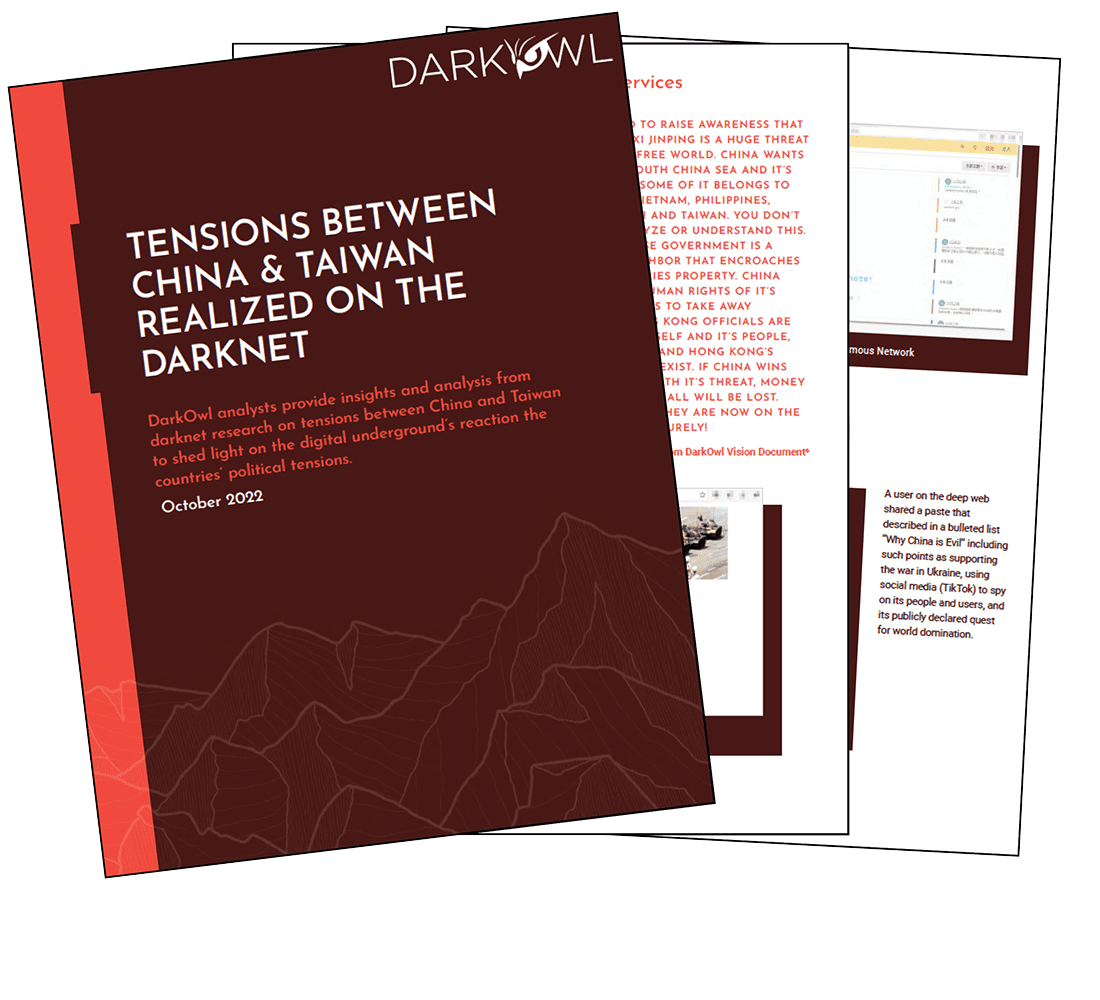 PRESENTATION
Industrial Control Systems and Operational Technology Threats on the Darknet
DarkOwl participated in this presentation in conjunction with Hybrid COE to bring awareness around ICS/OT threat vectors that continue to emerge and circulate on the darknet.
Upcoming Content This Month
BLOG
Cybersecurity Awareness: Darknet Investigator Best Practices
DarkOwl analysts outline a compilation of best practices for conducting OSINT and DARKINT investigations. Curious what we mean by DarkInt? Check out this 101 guide. This is now live!
BLOG
Cyber Group Spotlight: Bjorka
Learn more about the threat actor Bjorka who is causing terror to the Indonesian government. Check out previous Cyber Group Spotlight on SiegedSec in the meantime. This now live!
EVENT
DarkOwl @ OSMOSISCON in Tampa, FL
DarkOwl Product Engineer Damian Hoffmann will present "Finding Actionable intelligence in Dark Web Data for OSINT investigations" to attendees at this year's OSMOSISCON, October 16 – 18.
Attending OSMOSISCON? Schedule a time meet with a DarkOwl team member here. Read our synopsis here.
EVENT
DarkOwl @ DarkWeb Conference in Hyderabad, India
David Alley, CEO for DarkOwl FZE will be attending and speaking at this conference on October 18th, focusing on Combating Cyber Warfare and Cyber Terrorism using the Darkweb.
Attending this conference? Schedule time to meet David here.
DATASHEET
Dark Web Monitoring
DarkOwl is an open-source intelligence (OSINT) platform that aggregates information from various underground sources. Monitor for information critical to your organization, clients, and customers to discern actionable and meaningful intelligence from things like cyber breaches and ransomware attacks. Check out our new datasheet.
BLOG
Top Mentions of Cybersecurity Awareness on the Darknet
This piece will examine what threat actors on the darknet are discussing regarding cybersecurity awareness and related topics. This is now live!
---
Curious to see how darknet data can improve your cybersecurity situation awareness? Contact us.